In Taiwan, there are plans for a LEED-Gold certified building like no other.
The Taiwan Tower looks more like a vertical web than a building, and indeed it's mostly air with "strings attached."
Designed by Japanese firm Sou Fujimoto Architects, it will be a "semi-outdoor" space, along the lines of the Eiffel Tower, but topped by a green roof.
Indeed, the architects see it as the Eiffel Tower of the 21st Century, surrounded by a park and providing a "21st Century Oasis."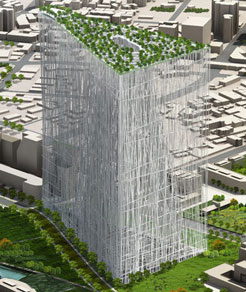 Plans for the building include a laundry list of renewables – solar water and PV, wind turbines and heat pumps, along with rainwater collectors.
The bottom design emulates a banyan tree, a strong structure that can withstand strong winds and earthquakes. Since the building is open there's no need for a ventilation system or artificial day-lighting, but LEDs will illuminate the building at night, making the tower look like a huge Chinese lantern.
1,000 feet up at the top is a green roof, which is expected to become a visible landmark visible throughout the city.
This visionary design harkens a new kind of building for the 21st century, bringing an appreciation for green building to everyone.
(Visited 9,192 times, 61 visits today)