Now that the $1 trillion spending bill (2012 Omnibus Budget) passed both houses last week, how did environment and energy fare?
Virtually all programs were funded at levels far below the President's requests, but many programs are at higher levels than the 2011 budget.
Environmental Protection Agency
Not surprisingly, the US EPA was smeared with the most severe cuts – $233 million – after being cut severely in the 2011 budget by 18.4%. EPA's budget is $8.4 billion for FY2012, $524 million below the President's request.
One important environmental program made it through: EPA's Great Lakes Restoration Initiative received $300 million to continue a multi-year program to resolve huge environmental problems, from invasive species to river bottoms laced with toxic chemicals.
The bill also sets aside $533 million for loans at little or no interest for states in the region to upgrade leaky sewer systems, which pollute surface waters.
During his 2008 campaign, President Obama promised to seek $5 billion for the program over a decade. Congress appropriated $475 million in 2010 and just under $300 million in 2011. The program has provided grants to some 900 local projects in Great Lakes states.
Climate Change, Dept of Energy
Climate change programs and research were cut and the FY2012 budget prohibits the appointment of a Federal "Climate Change Czar."
Also expected: DOE's renewable energy loan guarantee program is terminated, and the $181 million left unspent is rescinded, thanks to the shadow cast over Solyndra.
Funding for DOE to enforce the new efficient light bulb law was eliminated, and a Senate provision requiring energy efficiency regulation for TVs and set-top boxes was rejected.
Total funding for Energy and Water is $32 billion – $328 million more than 2011, but $4.5 billion lower than the President's request.
"Priority was given to programs that support the nation's security and economic competiveness," says the final budget, therefore security-related programs got a $478 million increase while non-security programs ended up with $150 million less than 2011.
DOE's Nuclear side got an increase of $505 million from last year's budget, for a total of $11 billion to maintain and modernize nuclear weapons, and for nuclear nonproliferation and naval reactor programs. An additional $769 million – $43 million above last year's level – goes to nuclear energy R&D for next generation nuclear power.
Fossil fuel R&D for coal, natural gas and other energy sources, received $534 million – $81 million above the President's request.
Renewable Energy got $1.8 billion – the same as last year's level, "to help lower the cost of renewable energy technologies and to develop new technology."
R&D programs in the Office of Energy Efficiency and Renewable Energy (EERE) received modest budget increases compared to FY2010 and FY2011.
Solar, wind, advanced vehicle, biomass, building efficiency and industrial efficiency technologies received 5%-17% increases from FY2011, bringing many of them back to or exceeding FY2010 levels. They are all much lower than the President's requests.
In case you can't read the small print in the graph below:
Brown bar: FY2010 Appropriation
Navy bar: FY2011 Continuing Resolution
Red bar: FY2012 Presidential Request
Green bar: FY2012 Appropriation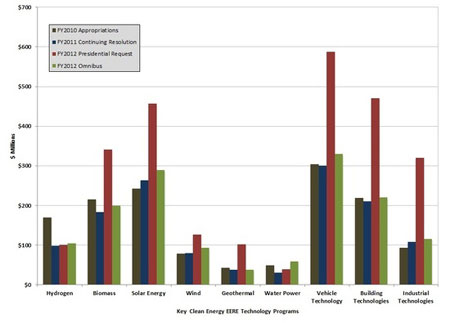 DOE's Energy Innovation programs got a small 2.5% increase from FY2011, when $800 million was cut. The funding supports DOE's new Energy Innovation Hubs, next generation modular nuclear reactors and ARPA-E.
The FY2012 budget funds two new DOE Energy Innovation Hubs. A Batteries and Energy Storage Hub in the Office of Science will tackle barriers to energy storage technologies, including charging cycle limitations, high cost, poor performance at low and high temperatures, and limited power capacities.
And a Critical Materials Hub is funded in EERE to reduce use of rare-earth materials in clean energy technologies and find substitutes.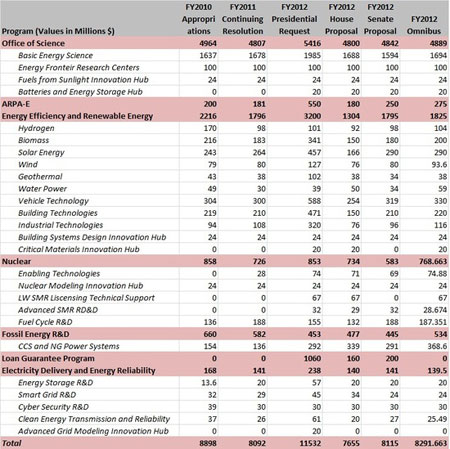 Appropriations Bill summary.
See more details:
Website:
[sorry this link is no longer available]
(Visited 9,484 times, 1 visits today)