Apple unveiled its plans yesterday for its new striking headquarters campus in Cupertino, California.
"I want to leave a signature campus that expresses the values of the company for generations," Steve Jobs told his biographer Walter Isaacson.
The spectular spaceship design is a 175-acre circular structure, with a footprint larger than the Pentagon. It is four stories high with glass circular walls.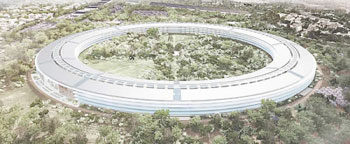 The plans show that much of the 750,000 square foot circular roof will host a solar array, which could be as large as 5 megawatts, making it the largest rooftop solar PV system in the US.
The plans also indicate there will be 320,000 square foot solar canopy topping the mostly underground parking garage.
Still the main source of energy is expected to be natural gas from an independent on-site generator.
No announcement has been made as to whether the building will be LEED-certified.
The 2.8 million square feet spaceship will house over 13,000 employees and should be finished by 2015.
Six thousand tree species surround the building in a native landscape that will be preserved.
In November, we learned that Apple is also building a solar plant at its new $1 billion data center in North Carolina.
Currently, the largest solar system is 4.26 MW for Avidan Energy Systems' commercial building in New Jersey, which will soon be superceded by a 5.38 MW system on the roof of a Toys'R'Us distribution center, also in New Jersey.
(Visited 5,628 times, 14 visits today)