The motto for UPS could be, "Every little bit helps." With a fleet of over 91,000 vehicles on roads each day, UPS puts a priority on finding ways to lower fuel consumption.
"We find that even the smallest changes to daily driving habits can make a difference," says Mike Britt, who manages UPS's automotive fleet. You wouldn't think of something as benign as avoiding a left-hand turn could conserve fuel, but Atlanta-based United Parcel Service (NYSE: UPS) swears by it.
In 2004, UPS put in place processes that mapped delivery routes to include as many right turns as possible. Waiting to make a left turn, whether you're sitting at a red light or waiting for oncoming traffic takes a lot longer than turning right, and eliminates engine idling – a major source of wasted gas.
The same technology that minimizes left turns, also finds the shortest routes between deliveries and times deliveries to avoid rush hour. That enabled UPS to drive 63.5 million miles less in 2010, avoiding 68,000 metric tons of emissions.
In 2010, UPS reduced the amount of fuel consumed per package by 3.3%, even as volume grew 1.8%.
Other small changes UPS relies on include:
Regularly scheduled vehicle maintenance: keeping tires properly inflated saves about 10% on gas, as well as regular tune-ups, including oil changes.
Driving style: accelerating and coming to a stop gradually has a big impact on gas mileage. UPS has a "no idling" policy, which increases mileage another 10%.
Keep the weight down: the lighter the weight, the better the gas mileage, so eliminate all unnecessary items in the trunk. A current test vehicle is made of plastic composites that reduce the weight by 1,000 lbs and improves fuel efficiency by 40%!
Use the vehicle that's right for the job: UPS matches its vehicle to the needs of its routes – it may even deliver by bicycle if streets are too congested.
"We believe our long-term, continuous focus on increasing ground network efficiency is a significant competitive and environmental advantage, based in part on external recognition for our results," says the UPS 2010 Sustainability Report.
In 2010, UPS raised the bar, targeting 20% less consumption by 2020 (over 2000 levels). For a company that mostly relies on trucks, that's good news. The company is also aggressively adding green vehicles to its fleet. It's got over 2200 compressed natural gas, liquefied natural gas, propane, all-electric and hybrid electric vehicles. Since 2000, this fleet has traveled more than 200 million miles making deliveries in the U.S., Germany, France, Canada, Mexico, Brazil and the UK.
In August, UPS announced the purchase of 100 all-electric delivery vehicles for deployment in California. The vehicles – which are well-suited for urban deliveries with a 90-mile range – will displace 126,000 gallons of fuel a year used in older generation diesel trucks.
UPS is also incorporating biodiesel in ground support vehicles at the UPS Worldport air hub in Louisville, Kentucky; a $515,000 grant from the US government is helping build the airport's fuel infrastructure.
Gasoline and diesel vehicles represent 37% of UPS's total emissions. The company continues to focus on fuel conservation, smart routing to reduce miles driven and new technologies.
Watch a video on the growing UPS green fleet:
[sorry this link is no longer available]
Learn more: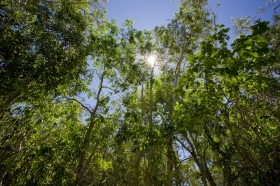 Companies, and individuals concerned with their impact on climate try a number of measures to reduce their emissions of air pollutants which impact the greenhouse effect of our atmosphere.
Bringing It Home: Is It Greener to Ship or Buy At the Store?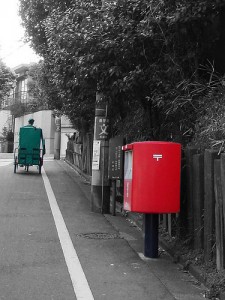 The sound of that diesel lumbering down the street with all that stopping and starting makes me wonder how much fuel these things use.
Website:
[sorry this link is no longer available]
(Visited 7,731 times, 91 visits today)