As Thailand is reeling from historic floods, AccuWeather reports a mighty"snowicane" – a hurricane with snow – is pounding western Alaska.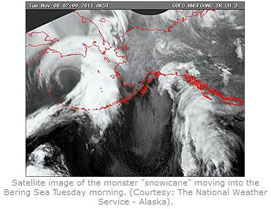 With the pressure equivalent of a Category 4 hurricane, "the potentially historic 'superstorm' will start a "parade" of storms in the Pacific Northwest later this week.
The powerful storm is unleashing 85 mph damaging winds, blizzard conditions, huge waves and coastal flooding. A coastal station measured ice accretion of 23.5 inches per hour Tuesday night.
Meanwhile, the health costs associated with U.S. climate-related disasters adds up to over $14 billion over the last decade, according to Natural Resource Defense Council (NRDC) researchers – and that's doesn't include the biggest disasters like Hurricane Katrina, where health costs were hard to pinpoint. And this year alone, the tab is more than that.
"When extreme weather hits, we hear about the property damage and insurance costs," Kim Knowlton, a senior NRDC scientist told Reuters. "The healthcare costs never end up on the tab."
Just looking at six weather events over the last decade, they resulted in an estimated 1,689 premature deaths, 8,992 hospitalizations, 21,113 emergency room visits and 734,398 outpatient visits.
News on the Tar Sands Pipeline
Increasing production of Canadian tar sands oil will only bring on much worse storms as extracting the oil produces triple the carbon emissions.
In a new turn of events, the State Department is examining alternative routes for the Keystone XL pipeline, which could take more than a year to complete, reports Reuters.
And the first Keystone pipeline was just shut down due to "mechanical issues." The problematic pipeline, which is TransCanada's first oil pipeline in the US has been plagued with issues and has leaked 14 times in its first two years—including an incident in which toxic tar sands oil was sent spewing 60 feet in the air and onto neighboring farmland.
This news comes just days after 12,000 people protested at the White House and The State Dept Inspector General announced it would launch an investigation into bias and conflicts of interest associated with the project's permitting. A special session of the Nebraska Legislature is also meeting to discuss forcing a re-route of the pipeline away from the Ogallala Aquifer.
"It's shocking that the State Department failed to take a serious look at alternatives to the pipeline path. This is a very basic example of the suspect manner in which this permit process has been moving forward from the start. The special session of the Nebraska legislature just called bringing state lawmakers together to discuss this very issue shows the gravity of the issue and what is at stake for the people living along the pipeline pathway. This is especially true in the sensitive Sandhills region above the Ogallala Aquifer—one of the most important and stressed water resources on the continent," says Danielle Droitsch in a NRDC blog.
(Visited 6,168 times, 9 visits today)