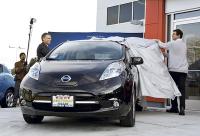 On December 11, Nissan delivered its first LEAF electric car to the person who placed the first order – Olivier Chaloudi, founder of Fanhattan, a tech company in the San Francisco Bay Area.
After Choloudi took the keys, a press conference followed to savor the moment when the first mass produced electric vehicle entered the US market.
"Electricity is the new fuel for cars, and the Nissan LEAF has the potential to transform the automotive industry and the way people drive," says Carlos Tavares, Chairman, Nissan Americas. "Starting today, drivers have the freedom to choose a future that produces zero tailpipe emissions, moves away from our dependence on fossil fuels, and represents the end of trips to the gas station. This Nissan LEAF delivery is the first of thousands and signifies the dawn of a movement that brings sustainable mobility to within our grasp."
Nissan says the waiting list for cars – which is now 4-7 months – will decrease in 2011. Initially, they're being delivered to markets in California, Arizona, Oregon, Seattle, and Tennessee; Hawaii and Texas are next in early 2011. The majority of orders have come from the Bay area.
In all of these first markets, Nissan has formed partnerships with local, regional and state governments and utilities to foster development of EV-friendly policies and an EV-charging infrastructure.
The first Nissan LEAF owners in San Diego and Arizona are participants in The EV Project, the largest EV infrastructure deployment ever undertaken. AeroVironment Inc. (NASDAQ: AVAV) is working with Nissan to supply and install home charging docks for Nissan LEAF customers nationwide.
The initial Nissan LEAF deliveries will be followed by a second shipment of Nissan LEAF electric cars scheduled to arrive on Dec. 20 and destined for consumer driveways in time for the holidays. Nissan is on track for a nationwide launch of the Nissan LEAF by 2012, with Hawaii and Texas next to roll out in early 2011. In order to fulfill interest and meet demand in initial launch markets, Nissan plans to reopen reservations in the first half of 2011 as well as shift timing of additional markets until the second half of 2011.
And 350 Chevy Volt hybrids are on their way to showrooms for sale this month in California, New York, Texas, and Washington D.C.
At the LA Auto Show, Honda said it will enter the EV market with the electric Honda Fit and Toyota will re-introduce its highly rated electric RAV4, this time with a Tesla drive train. Ford, Mercedes, Volvo, Mitsubishi, Coda, Fisker, Think and Tesla will all be offering EVs in the near future.
(Visited 4,106 times, 1 visits today)