Nevada is seeing big investments in renewable energy - well over $5 billion since 2010 - according to the Clean Energy Project, based in the state.

They give credit to Nevada's Renewable Energy Tax Abatement program, passed into law in 2009. To receive sales and property tax abatements, at least half of employees must be Nevada citizens; companies pay 175% of the state's average wage and provide health insurance to workers and their families.

Eligible projects have so far created just under 3,000 construction jobs that pay an average of $37.30 an hour, says Clean Energy Project.

That's resulted in 1.5 gigawatts (GW) of solar projects, placing Nevada third among all states on solar per capita, and second place for geothermal with over 566 megawatts (MW).

The 250 MW Silver State South Solar Project is in Nevada and another 250 MW solar project is about to start construction on land owned by the Moapa Band of Paiute Indians - the first utility-scale solar on tribal lands. When it's finished next year, it will bring clean energy to 93,000 homes. That's just the beginning - the tribe plans to build 1.5 GW of projects. The local solar industries employs 2400 people across 80 companies.
Nevada's large-scale wind project, Spring Valley Wind Farm, is supplying energy for 45,000 homes and more wind projects are underway.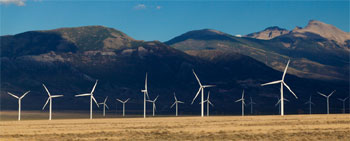 Thus, the $500 million spent on tax abatements has been leveraged to $5.5 billion in investments, a 10 to 1 return on investment. Additionally, Nevada will receive just over $820 million in employment and property benefits from these projects.
And because Nevada has become a leader on renewable energy, the wind, solar, and geothermal industries are all holding their annual conferences there this year.
Nevada's Renewable Portfolio Standard has a goal of 25% renewable energy by 2025.
Read the full report: