Electric bills are trending down for people that live in high-wind states, according to research by the American Wind Energy Association (AWEA).
The 11 states that get more than 7% of their electricity from wind energy have seen their electric prices decrease by 0.37% over the past five years, in contrast to all other states, where electricity prices have increased 7.79% during that time.
The 11 states are: Texas, Wyoming, Oregon, Oklahoma, Idaho, Colorado, Kansas, Minnesota, North Dakota, South Dakota, and Iowa.

Texas is on the verge of getting 10% of electricity from wind; Iowa and South Dakota already get 25%.

The more wind capacity they have, the more rates have come down.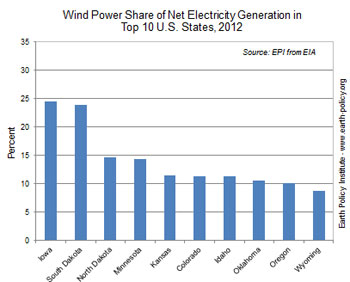 But don't AWEA's word for it - at least 15 studies confirm that as wind energy increases, electric prices come down. Studies have been done by independent grid operators, state governments, academic experts, and others.

For example, research from New England's grid operator concludes that when wind provides 14% of electricity, prices drop 10%, and when it reaches 24%, prices decline 15%. Find the links to these studies in AWEA's white paper, Wind Power's Consumer Benefits: