Restaurants across the country will soon be able to let customers know how nutritious and sustainably-sourced their food is thanks to the US Healthful Food Council.

Launched as a pilot in Washington DC, the Responsible Epicurean and Agricultural Leadership (REAL) program uses third party audits to certify the nutrition and sustainability of foods served at restaurants, and from caterers and food service operations.
REAL signifies authentic, wholesome, nutritious and sustainable, says the US Healthful Food Council.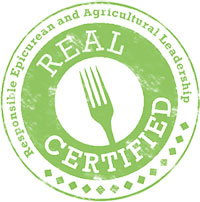 The goal is to develop a nationally recognized mark of excellence for the food industry - increasing the sustainability of foods served while addressing the causes of obesity, diabetes and other diet-related diseases.
REAL Certification, which is modeled on LEED certification for buildings, gives points based on nutrition and sustainable best practices. Auditors assess how much vegetables and fruits are included in menus, how much processed food they use, preparation methods, portion sizes, use of local and organic ingredients and leadership on best practices such as cage-free eggs and grass-fed beef.
"It's been heartening to see so many chefs and restaurants not only enthusiastically open their kitchens to a voluntary nutrition and sustainability audit, but also seek and embrace our recommendations for improvement," says Lawrence Williams, US Healthful Food Council CEO.
Now that its pilot phase is over, the group is launching REAL certification in New York, Boston, San Francisco and Los Angeles.

Besides a string of restaurants, recent REAL certifications include the John Hancock Building in Boston, The Clorox Company in Pleasanton, California, Google San Francisco and Union Pacific in Omaha, Nebraska.
Since sustainably-sourced foods can cost more, the group is working to get discounts for suppliers' ingredients. "This will provide a net benefit to all involved: restaurants will be able to access higher-quality ingredients at a discount, and suppliers can secure new business from REAL-certified restaurants," they say.
They are also in discussions with restaurant review websites such as Zagat, OpenTable, Savored, Yelp and TripAdvisor, to promote REAL certification.
This is good news in a country where the correlation between access to healthy food and diet-related diseases is becoming increasingly more apparent. Some 72 million Americans are obese, resulting in medical costs of about $147 billion a year, expected to more than double by 2020, according to the Center for Disease Control.
While USDA Organic certification helps people choose products wisely at the market, REAL certifies the provision of healthy, sustainable meals when people eat outside the home.
Restaurants are also working on their operations by recycling more and using recycled materials, composting and getting LEED certification.

The Chef's Collaborative has been working on these issues for over a decade.
Learn more and find certified REAL restaurants here: