The biggest wind farm in Africa is now online and it's in Ethiopia.
While it isn't particularly big by our standards, the 120 megawatt (MW), 84 turbine Ashegoda Wind Farm is the first of many. The 51 MW Adama I wind farm is the only other one in Ethiopia, operating since 2011.
Ashegoda is considered the windiest area in the country. The wind farm consists of small 1 MW turbines - tiny by today's standards. They work well in remote installations where there's little infrastructure, far from the grid.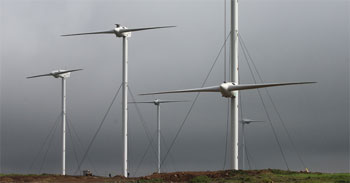 Ethiopia is on an energy production building spree, building the enormous 6000 MW Grand Renaissance hydro project, and signing contracts for wind and geothermal. Besides needing the energy for internal growth, the country wants to become a regional exporter.
For renewable energy, the country has plans for 800 MW of wind and about 1 gigawatt (GW) of geothermal. Still, the vast proportion of new energy - up to 10 GW - will come from big hydro.

Ethiopia has the third strongest wind resources in Africa - estimated at 100 GW, behind only Egypt and Morocco. Wind is viewed as an important complement to hydro, because wind speeds pick up during dry times when hydro doesn't perform well.
Ethiopia is "not only talking, they are acting and signing contracts. It might have one of the most impressive investment plans in renewable energy in Africa," Roman Coutrot of Vergnet SA (the French developer behind Ashegoda), told Reuters.