When it comes to reducing emissions related to freight, trains rate better than either trucks or airplanes. With this in mind, high-tech manufacturer Hewlett-Packard (HP) negotiated a new rail route to haul notebook computers and displays made at its factories deep in Chongqing, China, out to distributors and customers as far away as Germany.
The line mirrors the fabled Silk Road, the ancient web of paths and routes used to transport spices, gems and silk fabric by camel from their Chinese sources to markets in Europe.
The modern-day edition trailblazed by HP spans 6,700 miles, covers two continents and crosses six countries. It takes about three weeks for HP's express trains to complete a one-way journey, traveling at speeds of up to 50 miles per hour and safeguarded by armed security guards.
"Despite the distance, the journey is cost-effective and better for the environment than air transport, and it's faster than ocean shipping," says HP, in a blog post describing the project.
The rail route was several years in the making. In 2010, HP developed manufacturing facilities in inland and western China to take advantage of government economic incentives. But there was no easy way to get the products out of the region, so the company's supply chain team negotiated with government agencies and rail import/export system operators in China, Kazakhstan, Russia, Belarus, Poland and Germany to make the route a reality.
Now, HP dispatches express trains at least once weekly in the summer. The company plans to continue using the route over the winter and developed special packaging to protect devices from the cold - temperatures along the way can plummet to below -4 degrees Fahrenheit.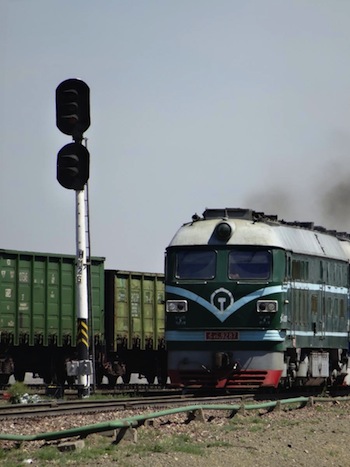 According to Tony Prophet, senior vice president of operations for HP Printing and Personal Systems, the rail route offers his company three competitive advantages:
Environmental benefits – This mode of transportation carries one-thirtieth of the carbon footprint associated with air freight.
Cost and time savings – Transporting products from remote locations in inland China out to the coast where they can be shipped by air takes up to 35 days, and is far more expensive. Rail costs about a third of the price of air transport.

Promise of better working conditions – By keeping its manufacturing plants in Western China, HP contributes to regional economic growth while being able to draw from a larger pool of potential workers.
Eventually, the route will be used for other kinds of shipments – and by other manufacturers.
Chinese authorities plan 50 trains next year, carrying $1 billion worth of goods, reports The New York Times. The first non-HP train headed north in July, with $1.5 million of tires, shoes and clothes on board. It will return with German electronics, vehicles and auto parts, and medical supplies.
HP was the No. 2 company on the latest Greenpeace Greener Electronics ranking and the Newsweek Green US ranking. It also consistently ranks as a leader for corporate responsibility reporting.
View more interactive graphics and photographs of the rail route from the
NYTimes
: