As food security becomes a bigger issue, landscape designers are being encouraged to change their focus from aesthetics to edible fruits and vegetables.

Dubbed "Aesthetic Foodscape Design," it asks designers to look beyond aesthetics, which usually consists of ornamental plants to those that can also bring food sources to the center of their practice.


Food security is a very real concern around the world, so why doesn't it feature more prominently in the landscapes spreading over our public spaces and civic properties, asks Joshua Zeunert, a member of the Australian Institute of Landscape Architects who is a big proponent of this idea.
"Food may be the source of our existence, but it is far from the center of our design practice," he writes in Eating the Landscape: Aesthetic Foodscape Design and its role in Australian Landscape Architecture. "This, therefore, is a call to begin the process of shifting the marginal to the center -- from the rural outskirts to the urban center, and from the edges of design to the fore."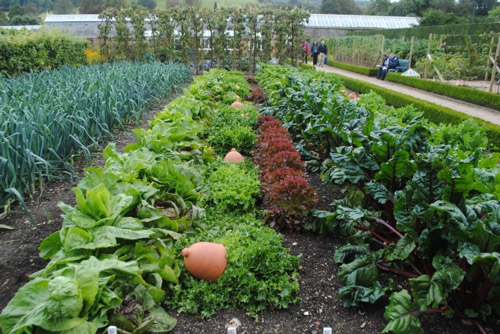 The goals cited in his paper are:
To overcome the urban disconnect to growing food.

To increase awareness of food production, as well as the need to improve global food systems.

To create edible landscapes in highly visible public and civic locations.

To encourage participation in growing and sharing food.

To embed edible plant species in the core planting palettes.

To encourage design and spatial exploration of edible plant species in landscape architecture.

To create aesthetic, edible, public spaces that delight users.
Aesthetic Foodscape Design borrows from the growing interest in school and community gardens, and suggests that designers should incorporate more productive or edible plants into their overall design schemes, says Zeunert. To be successful, however, this idea needs the support of local authorities, communities and clients.
In Vietnam, Vo Trong Nghia Architects designed a green roof that tops a primary school. It provides vegetables throughout the year and cultivation techniques are part of the curriculum.
Read Zeunert's paper: