Iowa State University is collecting LEED certifications, the latest of which is its athletic complex, which is now LEED-Platinum.

Five buildings on campus are certified - two Platinum, two Gold and one Silver. Its College of Design was the first building certified in Iowa in 2009.
The State Gym project is one of just four recreation facilities in the country to achieve LEED-Platinum and one of two in higher education. The University of Arizona, Tucson, has the other.
"Achieving LEED platinum certification on any project is an accomplishment; achieving it on a recreation building - with its very specific demands for space and programming - is a huge accomplishment for Iowa State," says Kerry Dixon-Fox, coordinator for sustainable design and construction in facilities planning and management.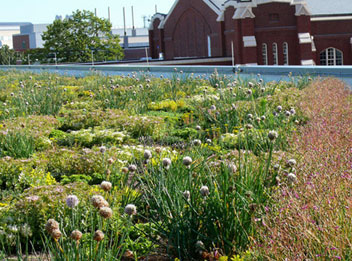 At 163,000 square feet, the gym is now topped with a green roof and a rainwater capture system, which sends the water to flush toilets.

Like many green buildings these days, the majority of original materials were reused, in this case 80-90%, and a quarter of construction materials were sourced within 500 miles. 86% of construction waste was recycled and 65% of the wood used is from sustainably managed forests.
The gym is fully daylighted and sensors adjust any artificial lighting needed during the day.
Then there's the now-standard low flow water fixtures, non-toxic paints, stains and adhesives and native landscaping.
The university also plans to get LEED certification for the football program's training facility and veterinary hospital, among others. In 2008, it committed to getting certification for all building projects, new and renovated.