A new 13-story commercial building in San Diego is the biggest net-zero structure in the US.
At 415,000 square feet, the 13-story LPL Financial building is even bigger than the net-zero project at the Exploratorium science museum in San Francisco.
The high performance design by WSP Flack + Kurtz employs a very efficient under-floor climate control system and advanced curtain wall materials. On-site Bloom Energy fuel cells will run on biogas from California landfills and wastewater treatment plants, shipped through the natural gas pipeline. The fuel cells will produce more energy than the building needs.
The building is scheduled for completion in mid-2014. It will be leased and occupied by broker-dealer LPL Financial and is owned by a partnership of international real estate firm Hines and institutional investors.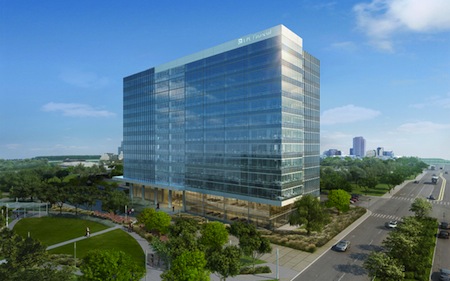 "LPL Financial at La Jolla Commons is one further step in our objective to put new building strategies and technologies into practice in an economically viable way, using our experience to continually reset our own standards of quality. First and foremost, we designed a Class A, commercially viable property, then we devised strategies to make it net-zero," says Jeff Hines, president and CEO.
Investments in net-zero energy buildings are expected to reach almost $690 billion by 2020, and are a big focus for venture capital flowing into green building.
They are mandated in the European Union, and support is building in the US, starting in California, which will require net-zero buildings as of 2020.