Crowdfunding is the new kid in town for people that want to raise (or contribute) money for everything from small community restoration projects, such as Ioby.org, to getting their business off the ground, such as 33Needs, without having to attract big funds from equity-hungry investors.

Crowdfunding raised $1.2 billion globally in 2011 and is expected to double this year, according to Crowdsourcing.org, an organization that tracks this new phenonomen. Funds raised last year supported a million projects.
Surprisingly, almost half of funds (49%) raised were donated to non-profit projects; only 11% were loans or projects where funders received equity or a share of profits.

Even more surprising is that only a minority of crowdfunding sites are donation sites (27%) - many more are focused on the "reward" model (47%).

The reason could be that people know what they're getting when they donate - they don't expect anything back - but aren't quite trusting of businesses that offer profit-sharing or a return on equity. Also, the campaigns are much smaller for donation-based projects, about $5500 compared to $85,000 for businesses, so there's a much better chance they'll reach their goals.

Most of the action is in North America, where it's growing fastest, and where half the funds were raised last year. The top five sites raised the lionshare of money - out of 452 crowdfunding platforms, they raised 73% of funds in North America and 95% in Europe.

What can crowdfunding do for renewable energy?
So far, equity-based and lending-based crowdfunding is most effective for digital goods - software, film and music - which raised the largest amounts per campaign.

But equity-based is the fastest growing crowdfunding category. 21% of funds raised last year were for projects that drew more than $250,000 in funding, and that's bound to keep growing.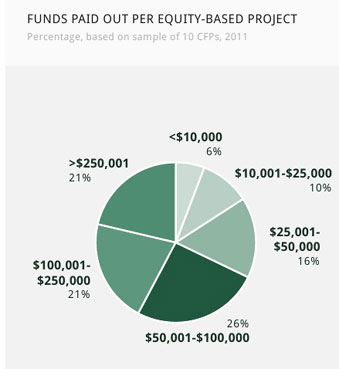 Interestingly, equity-based fuding is growing the fastest in Europe, but as it takes hold it could provide a viable alternative for start-ups and small businesses to raise capital.

That gives individuals a way to directly invest in renewable energy (and other green businesses), being aware, of course, of the risks involved in doing so.

Right now, people can invest in community-based renewable energy projects for as little as $25 at Solar Mosaic. That money, combined with that from 85 others, paid for a 26 kilowatt rooftop solar system in Oakland, California.

Or how about chipping in to put a solar system on your local school? Check out www.solarschools.org.uk/

Right now, your money is a zero-interest loan, but when the recently passed JOBS Act goes into effect, funders will be able to receive financial returns on their money, enabling people to create a portfolio of renewable energy investments as projects get built and produce energy.

The Jobs Act is controversial because it basically de-regulates risky investments that were previously open only to accredited investments. And since it applies to businesses as big as $1 billion in revenues, it de-regulates some pretty big companies. But for community-based projects it can be a great source of capital, income stream and jobs, bringing renewable energy where it's needed.
Here's the Crowdfunding report: