The solar industry is following the same trajectory of growth as every other energy source, including oil, gas, coal and nuclear, and could employ up to 430,000 people by 2020 if government support continues, according to a study by University of Tennessee's Howard Baker Center for Public Policy.

The study shows it takes about 30 years of innovation and early adoption before a new energy source reaches 1% market share - when rapid growth begins that results in mainstream use. During those early years, every energy source has received government subsidies - and solar is still in the early stages.
"Diffusion of solar energy technology in the energy markets is consistent with the less-than-smooth paths that many American industries have traveled as they entered the mainstream of commerce," says the report.
Federal support has included market control measures for oil, making pipelines available for natural gas, construction of flood control dams that provide the fuel for hydropower and states surveying their coal resources.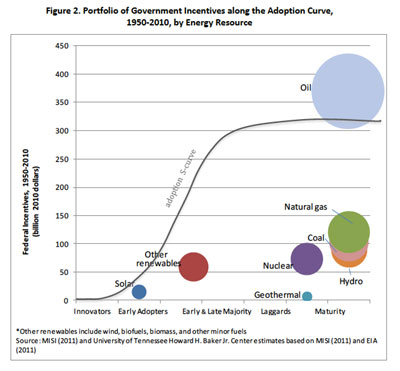 Considering how small the subsidies have been for solar compared to other energy sources, solar technology has done much with little.
"One need only look to the early history of the automobile industry in the United States to realize that not all companies that enter the market early flourish, yet the industry itself can succeed. There is a "chasm" over which the industry must leap to expand to majority adoption."
"Solar energy technologies are currently in the rapid growth stage between early adoption and the chasm that comes before majority adoption where government incentives can be most critical in helping new energy technologies become significant sources of energy production."

Subsidizing solar is good public policy and needs to continue, the study says. But so far Congress has voted to continue 100-year old oil industry subsidies rather than those for renewable energy.

100,000 Americans have solar jobs working at 5,600 solar companies in all 50 states. The industry more than doubled the amount of solar electricity installed in the U.S. in 2011 over the previous year and will continue in 2012.
Read the study, "Assessment of Incentives and Employment Impacts of Solar Industry Deployment," commissioned by the Solar Energy Industries Association (SEIA):