The FedEx Express cargo facility at Chicago's O'Hare International Airport is now topped by a huge green roof - 175,000 square feet - the size of three football fields.

The roof is plainly visible from planes as they land at one of the world's busiest airports. The only airport that has a bigger one is in Frankfort, Germany.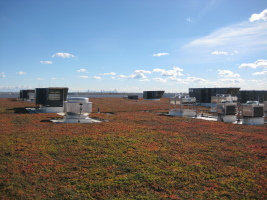 Although it's the largest by far, there are 12 other green roofs at O'Hare and Midway airports. Airports mostly consist of large areas of impermeable concrete surfaces - green roofs cool the urban heat island effect and help with stormwater management. They also reduce airport noise, reduce air pollution, and lower energy costs by 35% a year.

"Green roofs act like a sponge for heat, light and water and they conserve energy by maintaining a constant temperature inside the building. They also help to collect storm water," explains FedEx Deputy Commissioner of Sustainability Amy Malick.
FedEx calculates it will save $0.20 cents per square foot of green roof per year on energy costs alone and it will absorb about two million gallons of storm water each year, which would otherwise run off into the sewer system.
Like many green roofs, this one is covered with sedum - a low-growing, drought- tolerant plant. Although one of the advantages of a green roof is that it provides habitat for birds in industrial/ urban areas, in this case, sedum species were selected that don't attract birds - because birds at airports can be hazardous for all concerned.
FedEx is pursuing LEED- Gold certification for the facility, as part of its commitment for all new properties to be LEED-certified.

Its World Headquarters in Memphis is LEED- Gold certified under USGBC's LEED for Existing Buildings Rating System.

O'Hare is also building LEED- certified airport facilities, recycling construction materials on the airfield, using efficient vehicles and construction equipment, installing energy efficient lighting, and even providing a habitat for honeybees with the nation's first on-airport apiary.

In July, FedEx anounced it would add 4,000 fuel-efficient vehicles to its fleet - amounting to 10% of the fleet - including some hybrid and electric trucks.
It also has a target of running on 30% alternative fuels by 2030 as part of its commitment to reduce CO2 emissions from its aircraft fleet 20% and improve the efficiency of its vehicle fleet 20% by 2020.

Learn more about what FedEx is doing: