"Our game originated on frozen ponds. Many of our players learned to skate on outdoor rinks. For that magnificent tradition to continue through future generations, we need winter weather (and fresh water to make ice) and, as a League, we are uniquely positioned to promote that message," says Gary Bettman, Commissioner of the National Hockey League (NHL) in announcing action on climate change.
It took two years to put together the first Sustainability Report of a professional sports league. The NHL has been working with the Natural Resources Defense Council (NRDC) to create a plan that reduces the league's greenhouse gas emissions after measuring energy use, waste management, and procurement at 30 North America arenas.
In 2010, the league launched NHL Green with these goals: reduce the use of natural resources in business operations; track and measure the environmental impact of the sport; inspire fans and partners to commit to environmental stewardship. The website features their greening efforts, environmental information, and green tips for fans.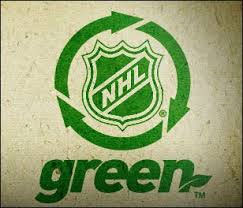 About 408 metric tons of carbon is emitted at each hockey game – equivalent to 900,000 gallons of gasoline. On average, that means 56 pounds for every attendee, without including their transportation to the game.
It adds up to 500,000 metric tons per year for League and Club operations for over 182 game days, 1,230 regular-season games, over 60 playoff contests and nearly 2 million miles of team air travel per season. In comparison, the annual emissions from the largest coal power plant in the US totals 23 million metric tons.
Besides using renewable energy and doing efficiency upgrades at arenas, NHL will work with teams to reach specific greenhouse gas reduction targets. Existing programs already in place include demand response, efficient lighting and on-site solar under "NHL Green." They also recycle, compost, donate excess food, and plant trees ("Pucks for Parks") among many other initiatives. The 2011 Stanley Cup Final was the first "water-neutral" series for the NHL.
NRDC's guide, Solar Electric Energy for Your Stadium or Arena has been distributed to all arenas, providing information on working with vendors, how to finance solar systems and state-by-state incentives.
"The 2014 NHL Sustainability Report is arguably the most important statement about the environment ever issued by a professional sports league," says Allen Hershkowitz, Senior Scientist and Head of NRDC's Green Sports program. "Its focus on controlling fossil fuel use and greenhouse gas emissions is a mainstream wake-up call that climate disruption poses an existential threat to everything we hold dear, including sports and recreation.
The single most important thing the NHL can do to address the urgent ecological challenges we face is to help change cultural expectations and attitudes about how we relate to the planet," he adds.
Commission Bettman is being honored with the 2014 Green Sports Alliance Environmental Leadership Award for establishing NHL Green. The annual Green Sports Alliance Summit takes place today in Santa Clara, California.
112 sports teams now do everything from plant edible gardens to build net-zero energy stadiums.
Here's the NHL Green website which includes the 2014 Sustainability Report:
(Visited 3,438 times, 2 visits today)