Massachusetts is awarding almost $1 million in grants to provide training for low and moderate-income individuals for clean energy jobs.
As part of the Pathways out of Poverty program, the grants will fund for job training offered by green technology companies,
community-based nonprofit groups, educational institutions and labor organizations across the state.
"The programs will connect low-and moderate-income workers with an expanding clean energy industry in need of well-trained employees," says Rick Sullivan, Secretary of Energy and Environmental Affairs, and chair of Massachusetts Clean Energy Center's (MassCEC) board.
Unemployed or underemployed people will be matched with training programs in designated Gateway Cities, those that need special attention.
Last month, Massachusetts upped its solar target from the current 250 megawatts (MW) to 1600 MW by 2020, because it reached the milestone four years early. 72,000 people are employed by the state's clean energy industry and it ranks #6 in the nation for solar installed in 2012, #7 for total installed solar and #2 for driving down costs.
Prices for residential solar electricity dropped 28% in 2012 for the state, the second biggest decline in the US last year, says the Solar Energy Industries Association.
The state has a separate Energy Efficiency Resource Standard which has helped make it #1 in the US on energy efficiency.
Clean energy installations in the state!: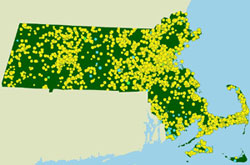 Programs receiving funding under the program are:
Boston: Jewish Vocational Services – $250,000 – in partnership with Ben Franklin Institute of Technology and Bunker Hill Community College, they will build new pathways from JVS' college transition program for adult
learners, Bridges to College & Careers, into college-credit level courses in clean energy and science technology engineering and math (STEM) fields.
Berkshire County: Berkshire Community College – $81,188. Connect low-income disconnected youth, unemployed and dislocated workers with Berkshire County employers who need workers skilled in clean energy and green technologies.
New Bedford: New Bedford Economic Development Council – $250,000. The Bridge to Greener Futures project
will provide motivated, low-income, disconnected youth with academic, occupational and life skills that lead to college and careers in clean energy with an emphasis on offshore wind.

MassCEC is currently overseeing the construction of the nation's first marine commerce terminal in New Bedford
equipped to serve as a staging area for offshore wind projects.

Statewide: Co-Op Power – $181,045. The Good Green Jobs training program will train individuals from Gateway
Cities and Economic Target Areas for entry-level positions as weatherization installers, providing the workers mentors and on-the-job training with employers.
Worcester: Worcester Youth Center – $112,000. Stemming the Opportunity Gap is a three-phase program with partners, Quinsigamond Community College and the
Central Mass Workforce Investment Board. The year-long program will
engage out of school, unemployed or underemployed youth ages 16-24 who meet
low-income requirements, introducing them to clean energy concepts and putting
them on the path towards higher education in the field.

Cape
Cod: Northeast Offshore Renewable Energy Training Program – Self Reliance
Corporation – $50,000. The
WindSkill BZEE curriculum trains people looking for employment in offshore wind. It includes training at the
Massachusetts Maritime Academy, internships and hands-on experience.
Authorized in 2009, MassCEC's Pathways out of Poverty program is
designed to jumpstart training in clean energy careers for low- and
moderate-income residents. Eligible projects must include on-the-job-training
models or bridge-to-college programs that serve the target population and
provide services and activities to address employer workforce needs and
optimize opportunities for participant learning, career development and
economic advancement within the clean energy industry.
MassCEC was created by the Green Jobs Act of 2008, with a
mission to foster the growth of the Massachusetts clean energy industry by
providing seed grants to companies, universities, and nonprofit organizations;
funding job training and workforce development programs; and, as home of the
Massachusetts Renewable Energy Trust, supporting the installation of renewable
energy projects throughout the state.
Here is their website:
(Visited 6,419 times, 2 visits today)