After producing its groundbreaking annual Environmental Profit & Loss statement for the company as a whole, Puma drilled down to measure the footprint of individual products … and the result is InCycle.

InCycle is available in Puma stores worldwide starting this month – the industry's first "closed-loop" clothing line includes clothes, footwear and accessories – all Cradle to Cradle Certified.

Puma says its purpose is to help people reduce their personal environmental footprints by buying clothes that can be returned to the company at the end of life.
When people return the clothes under PUMA's Bring Me Back Program, they will either be recycled or composted depending on the material.
"We feel that we are responsible for the environmental impact our products cause and this innovative concept in sustainability is a first step towards our long-term vision of using innovative materials and design concepts for PUMA products that can be recycled in technical processes or composted in biological cycles," says CEO Franz Koch.
The sneaker "Basket" and shirts are completely biodegradable and the "Track Jacket" and backpack are recyclable.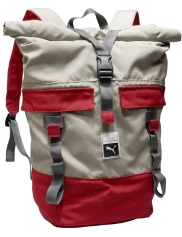 When Puma did its 2010 Environmental Profit and Loss statement, it found that 57% of the company's footprint comes from the raw materials that go into its products, such as leather, cotton and rubber.
Thus, the company changed their composition, using only biodegradable polymers, recycled polyester and organic cotton, eliminating pesticides, chemical fertilizers and other toxic chemicals.
It found that by doing so, clothing items in the InCycle line have a third lower environmental footprint than conventional products.
Recycling means that used materials – which typically end up in landfills and incinerators unless they're donated – will be processed into new materials cutting the need for crude oil, waste and the use of energy. Recycling uses less energy compared to raw material extraction, reduces air pollution from waste incineration and land use from landfilling.
In order to be fully recyclable, only one material can be used. The Track Jacket, for example, is completely made from recycled polyester and so is the zipper. It's made from used PET bottles (like soda bottles) and when returned, it's ground down to polyester granulate, which is incorporated as a raw material once again.
To be biodegradable, materials have to be made without any toxic chemicals and follow international standards for composting. The upper of the sneaker "Basket" is made from a mix of organic cotton and linen and the sole is a biodegradable plastic called APINATbio©.
In 2011, Greenpeace's report, "Dirty Laundry" had a big impact on Puma (and on Nike, Adidas and other big brands) when it brought to light suppliers that released hazardous and hormone-disrupting chemicals into Chinese rivers. Two weeks later, Puma and the other brands pledged to eliminate all releases of hazardous chemicals across its global supply chain by 2020.
Greenpeace's latest report, released in December, shows hazardous chemicals continue being released in China and now Mexico for other big brands like Levi's, Gap and Calvin Klein.
Cradle to Cradle certification launched in 2009 and rates products using five criteria:
1. Their use of environmentally safe and healthy materials
2. Materials are designed for recycling or composting at end of life
3. Manufacturing must make use of renewable energy and carbon management
4. Water stewardship
5. Social fairness
This year, Puma is launching a coalition to broaden adoption of its Environmental Profit & Loss methodology. About a dozen companies are expected to join from a variety of industries.
The company also participates in the Sustainable Apparel Coalition, which recently released the Higg index, enabling retailers to evaluate the environmental performance of the brands they sell.
Read this excerpt from the book, Cradle to Cradle: Remaking the Way We Make Things.
(Visited 20,682 times, 4 visits today)