Welcome to Progressive Investor/ September 2010!
We're back from our summer rest, but we've been keeping up with enough of the developments to know this is a period of unrest. The BP oil spill is fast becoming a bad past nightmare (at least the media has stopped reporting on it), while the new nightmare of the mid-term elections has taken center stage.

Republicans are threatening to turn back the clock on just about every hard fought win during the Obama administration (succeeded without any of their votes in almost every case) and they can't wait to do the same on energy policy and climate science.

If you have clients or colleagues that you think would be interested in subscribing to Progressive Investor, please contact me to discuss ways we can make it benefit you.

Upcoming Investor-Related Conferences:

Oct 7-10, Augsburg, Germany
RENEXPO® 2010
Oct 8, San Francisco
Connected Capitalism: A New Model of Engagement
Oct 11-13, New York City
Cleantech Forum New York
Oct 13-15, Washington, D.C.
5th Annual Biomass Finance & Investment Summit
Oct 18-21, Washington, D.C.
4th Annual GridWeek 2010
Oct 19-21, Denver, Colorado
23rd NREL Industry Growth Forum

Oct 19-21, São Paulo, Brazil
Brazil Renewable Energy Finance and Investment Summit
Oct 19-20, Dallas, Texas
Energy Efficiency Expo 2010
Oct 19, Mountain View, California
Financing a Cleantech Company
Oct 19, New York City
NYC Cleantech Opportunities

Oct 24-27, San Francisco, California
Nano Bio CleanTech 2010
Oct 25-27, Washington, D.C.
Critical & Rare Metals Summit III: Rare Earths Outlook - Strategies for Managing Rare Earths and Lithium Supply Risk
Oct 25-26, Denver, Colorado
CSP Project Development Conference & Expo

See all the Events.

Stay up-to-date on Green Business and Green Investor news by either checking our home page every day or by Signing up for our RSS feeds. You can also access the news from your Subscriber page.
Remember, the back issues are freely available to you as part of your subscription. Just log-in and read them.

Enjoy and Learn!
Nasdaq OMX Green Economy Index Launches
On September 22, Nasdaq launched the Green Economy Indexes (Nasdaq: QGREEN).

You'll be happy to know that your editor of this newsletter, Rona Fried, CEO of SustainableBusiness.com, selects the stocks for the indexes.

The family of green indexes covers all the world's green stocks with a market cap of $50 million or higher.

The all-inclusive NASDAQ OMX Green Economy Index (Nasdaq: QGREEN) contains over 350 securities from 13 distinct sectors from a universe of over 460 companies. Indexes tracking each sector and region of the Green Economy Index will be launched in the coming weeks.

The Green Economy Index covers the entire green economic landscape. The index acts as a benchmark for green stock performance of stocks in the following sectors: advanced materials; biofuels; energy efficiency; green building; healthy living; natural resources; pollution mitigation; recycling; renewable energy generation; transportation and water.
This is the first time investors will gain exposure to all the companies worldwide that stand to benefit from a societal transition toward a green economy. While most green-oriented indexes focus on clean technologies and renewable energy, the Green Economy Index is designed to capture the broadest universe of companies, including natural resources, healthy living, green building and efficient lighting, smart grid, green IT and water.

Of course, the index isn't investable until ETFs sign on to benchmark the index. We'll announce the ETFs that are available to you in due course.
For more information about NASDAQ OMX's Green Economy Index Family and the upcoming Green Economy Sector indexes, visit https://indexes.nasdaqomx.com/green.aspx.
For information about the components and weights of the NASDAQ OMX Green Economy Index, visit NASDAQ OMX Global Index Watch.
back to table of contents
Market Commentary
The US stock market has risen almost every day since the beginning of September, and we're now in positive territory for the year.

Bears are giving way to bulls as an increasing number of analysts view the past months as a correction, rather than the lead-in to a bear market. Fears of the dreaded double dip recession, which were behind much of the tumbling market, are receding. In fact, the latest economic reports point to continued recovery, albeit slower than impatient Americans prefer. Expect the economy to grow unevenly, in fits and starts, with bad news among the good.

As of now, the economy is on track for 1.5-2% growth this year and, although fragile, the sources of growth are expanding beyond government stimulus and manufacturers replenishing inventory. Housing, manufacturing and consumer spending are all improving.

Corporate Earnings Strong

About 75% of S&P 500 companies beat analyst earnings expectations in the second quarter with impressive average year-over-year earnings growth of 38%. Rather than growing profits through cutbacks, this round of results was from revenue growth.

Renewable energy firms did even better. Most beat estimates and many raised guidance for the second half of the year.

HSBC recently reported that clean energy companies have proved resilient to the global financial crisis and recession. Global revenues for the sector were about $530 billion last year, down only slightly from 2008′s $534 billion.

Efficiency-related stocks have been on top -no surprise in a period in a recovering economy, where efficiency gains can contribute to the bottom line. Solar firms are seeing some light on the market while wind continues to lag.

Renewable Energy Developments
Developments on the ground are also having an effect on market conditions for renewable energy. While the Recovery Act is enabling the largest solar projects to date to move ahead, political deadlock and the threat of Republicans gaining a majority in Governor and Congressional races threatens the industry's progress and stock market conditions.
On the positive side, the California Energy Commission approved large landmark utility-scale concentrated solar projects during the past month that will power 1.6 million homes: Solar Millenium's (S2M.DE) mammoth 1 GW plant; Tessera Solar's 850 MW plant; BrightSource Energy's 392 MW plant; NextEra Energy's (NEE) 250 MW plant; and; and Abengoa's (AGB.MC) 250 MW plant. Read the NY Times article about these projects.
2010 is a historic year for the global PV market - it's forecast to double, exceeding 16 GW installed, according to IMS Research. Growth is being driven by strong demand ahead of the feed-in cuts in Europe, and in North America and China. They expect considerable slowdown in 2011, however, as the industry copes with major revisions to key countries' incentive schemes and potential over capacity and price pressure throughout the supply chain.

The industry grew 89% in 2008 and 51% in 2009, when it installed a record 10.7 GW globally. By the end of 2009, nearly 23 GW was installed worldwide, enough to power 4.6 million U.S. homes. First Solar (FSLR) was the top PV manufacturing firm in 2009, contributing roughly 10% of world PV production.

China led for the second consecutive year, producing 3,800 MW in 2009. China and Taiwan, in third place, accounted for 49% of all PV manufacturing. Japan took second place, Germany was fourth, and the U.S. was fifth. Japan, which dominated the global market in 2004, controls just 14 percent today.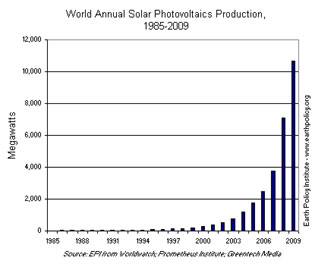 On September 23, the California Air Resources Board unanimously raised the state's Renewable Energy Portfolio Standard from the current 20% target by 2010 to 33% by 2020 - the strictest in the U.S. 15% of California's electricity came from renewable sources in 2009.

However, if the oil industry's ballot to kill California's landmark global warming law, AB32, passes in November, it will also kill the new renewable energy standard. Meg Whitman, Republican candidate for Governor, says she'll suspend the law if she's elected (the Governor can suspend implementation for a year).

AB32 is California's landmark 2006 law that requires the state to reduce greenhouse gas emissions to 1990 levels by 2020. Major polluters such as refineries, utilities and factories would pay fees and have to make substantial investments in advanced equipment. It mandates emissions reports, the expansion of renewable energy and cleaner fuels.
Meg Whitman claims the law would cripple the economy, lead to more job losses and put California businesses at a disadvantage to other states. As usual, the reverse is true: repealing the law would cripple renewable energy, California's fastest growing economic sector.

And last week, the world's largest offshore wind farm started operating off the coast of England. The $1.2 billion, 300 MW wind farm will power the equivalent of over 200,000 homes. The UK now has 5 GW of offshore wind capacity. The Global Wind Energy Council (GWEC) forecasts that wind capacity worldwide will double to 400 GW by 2014.

The situation is much less sanguine in the U.S. Wind developers are pulling out because of our inability to pass a national energy policy. EDP Renovaveis SA (EDPR) announced that its U.S. subsidiary Horizon Wind Energy would spend less than half on wind projects here in 2011 than it did this year ($700 million reduced to less than $300 million) and could make further cuts. NextEra (NEE), the nation's biggest wind developer, made a similar announcement earlier this year.

On September 22, a stand-alone Renewable Energy Portfolio Standard (RPS) bill was introduced in the U.S. Senate. The weak bill, which is hardly better than nothing, still doesn't have a strong chance of passing this year. It would require utilities to source 15% of energy from renewable sources or from energy efficiency improvements by 2020.
Investors Very Nervous

Meanwhile, investor sentiment is so negative that it's a positive. There's still a ton of money on the sidelines and stocks are so cheap that the potential for buying is high when conditions are right.
Since late April, nervous investors have been moving money out of equity mutual funds ($45.8 billion) and into bond funds ($70.3 billion), according to the Investment Company Institute. $7.6 billion flowed out of domestic equity mutual funds and $6.7 billion flowed into bond funds the last week of August. It's times like these when contrarian long term investors find it favorable to add to their equity portfolios.
To review, the S&P 500 has risen nearly 80% since March 2009 low, and has been taking a breather since this year's high in April. Choppiness began in April in reaction to debt rating downgrades in Europe and the SEC charge that Goldman Sachs defrauded investors. The market corrected just five days before the "Sell in May and Go Away" seasonal pattern kicked in; the S&P 500 shed 16% by July 2. Green stocks were crushed - the solar group gave up about 21%. The market's been waffling since, and now, we're in the August - October period - historically, the weakest of the year.

But this is a mid-term election year, which traditionally sets us up for a bullish fourth quarter. Since 1914, the Dow has gained an average of 50% from the low in mid-term election years. It's time to buy again in expectation of a year end rally.

As usual, investors are making decisions based on emotions. They're buying fixed income bonds and treasuries at a time when interest rates are at all-time lows, and are sure to fall lower as rates rise in the future.
Prudent investors, on the other hand, are buying dividend paying blue-chip stocks at nicely discounted valuations. Dividend yields are currently competitive with bonds, and many blue chips have long histories of increasing their dividends every year. In contrast to fixed income, this strategy offers investors a potential pay raise each year along with the potential for capital appreciation.
++++
back to table of contents
Green Building Update
Improving the efficiency of buildings has been a major focus of cleantech portion of the Recovery Act. Since only about a third of the funds appropriated to cleantech have been dispersed, we thought we'd look at what's happening in green building to see how that lagging sector is doing.
During a recent investor conference call, Johnson Controls (JCI) discussed recent trends in its building efficiency division, reports Canaccord Adams. The company's large market share in building controls makes it a good indicator for the overall market.
JCI says orders are holding up "quite well," especially because of the very hot summer. They've been improving since the end of 2009. Key customers are state and local governments, healthcare, and education. Stimulus funds are finally increasing on a month-by-month basis. Originally, JCI thought it would bring about $3 billion in revenue opportunities, but stimulus-related bookings this quarter are running at only $160 million, up from $140 million last quarter.

Orders are down in Europe; the Mid- East (excluding Dubai), Latin America, and China are the fastest-growing areas.

Overall, JCI says, "customers are ill-equipped to deal with the growing complexities of energy efficiency and sustainability and doing nothing creates both environmental and economic risk."
Furniture manufacturer Herman Miller (MLHR), which supplies corporate office and institutional markets, is also seeing improvement in the North American market - orders have been growing consistently for three quarters. That also suggests a better environment for floor coverings firm, Interface (IFSIA).
Architectural glass and window manufacturer Apogee Enterprises (APOG) is still "bouncing along the bottom" - basically flat. There's been some thawing in financing available for commercial construction, but the current fiscal year will probably be the company's worst ever. Management believes, however, that it will emerge from this economic cycle stronger because of steadily growing demand for more energy-efficient glass, both in new construction and retrofit markets.

NCI Building Systems (NCS), which also supplies the nonresidential construction industry, thinks they too have passed the bottom of this downturn. CEO Norm Chambers points to McGraw-Hill data, which pegs new construction square footage at 660 million square feet this year, well below cycles dating back to the 1960s. He notes that industrial vacancy rates seem to have peaked and may begin trending down in 2011.

NCI makes metal building products, which have 25%-35% post-consumer recycled content, cool roofs and insulated metal panels for roofs and walls. Creating a tight building envelope can reduce commercial building energy use 60%. The company is heavily involved with the newly unveiled International Green Construction Code, which will likely have cool roof and air barrier requirements.

LSB Industries (LXU), which has building control, chemical and geothermal divisions, believes the commercial construction business should resume growth in 2011-2013. LXU shares the market for geothermal heat pumps in the US with WaterFurnace International (WFI).

CEO Barry Golsen says a "perfect storm" of factors should drive growth in the geothermal market: the trend toward green building, driven by climate change concerns and government policy; energy security concerns; electric grid capacity constraints; recently enacted tax credits for geothermal; long term rising energy costs; and stimulus funds for upgrading federal and state buildings, schools, and public housing.

Geothermal heat pumps have the advantage of being applicable in diverse situations - they can be used for all kinds of construction and renovation in all climates.

LSB also introduced a green product on their chemical side, which has long term potential. The product - Diesel exhaust fluid - converts 99% of NOx fumes into harmless nitrogen and water. The EPA recently enacted more stringent NOx emissions requirements for heavy-duty vehicles.
95% of Orion Energy Systems (OESX) revenue comes from commercial and industrial indoor lighting retrofits, a $9 billion market in North America. They are expanding into the outdoor lighting retrofit market, which is more than double ($20 billion) in size, mostly for parking lots and roads.
Orion is also beginning to install solar PV. It re-sells and packages Solyndra's panels with its own products through integration partners.

We are in the early stages of what will be one of the most significant secular trends in the global construction market - the Green Building movement. The recession has been hard on companies in the short run, but over the long term they will out-perform.

Stock Highlight

Ameresco, Inc (AMRC)
Framingham, MA

Market Cap: $267 million
Stock Price: $11.74
52 Week Range: 9.34 - 14.17
Rating: BUY
Target: $16
www.ameresco.com

Ameresco, which went public this July, is one of the few independent, pure-play energy efficiency solutions providers with a national footprint in the U.S. and in Canada. It's a "one-stop shop" for energy efficiency and renewable energy services, and provides third-party financing.

Energy services is a large, fast-growing industry. With less than 2% of U.S. office space retrofitted to improve energy efficiency, Ameresco has a vast market opportunity. The company is a direct play as a solution to rising energy costs, global environmental concerns and the adoption of geen building standards.

Their principal service is the development, design, engineering and installation of projects that reduce the energy, operations and maintenance costs of customers' facilities. Their services address almost all aspects of purchasing and energy use by upgrading a facility's energy infrastructure and by building and operating small-scale renewable energy plants. One of its recent projects is the Savannah River Project, awarded by the U.S. Dept. of Energy (DOE). Ameresco converted an old coal-fired plant to one that runs on biomass.

The company has grown from four offices in three states in 2001 to 54 offices in 29 states and four Canadian provinces in 2010, and now combines a North American footprint with strong local operations. Since their 2000 inception, Ameresco has served over 2000 customers in government, education, utility, healthcare and other institutional, commercial and industrial entities.
Ameresco has a total order backlog of $1.1 billion. Its business model includes significant levels of recurring revenue from renewable energy projects and ongoing operations and maintenance contracts. It's won over 30% of the projects the DOE has awarded for energy performance contracts since 2008. Principal competitors include Johnson Controls and Siemens Building Technologies.

AMRC, which has low working capital requirements, has been consistently profitable with positive cash flow since 2002. Through internal growth and acquisitions, they've grown revenues from $20.9 million in 2001 to $428.5 million in 2009. They expect revenue to be about $580 million for 2010, with net income at $26 million.

++++
back to table of contents
Stock Highlights
Updates on some of the stocks we cover
Exchange Traded Funds (ETFs)

Out of the dozen or so cleantech ETFs, only two are up this year: PowerShares Cleantech (PZD) is up 2% and PowerShares Global Progressive Transport (PTRP) is up 11%.

PTRP, which is based on the Wilder NASDAQ OMX Global Energy Efficient Transport Index, invests in energy efficient transportation such as high-speed rail, bicycle, and electric vehicle components as well as old-line railroads and ocean transport. The 40 stocks, which are mostly in the US and Europe, have an average market cap of $2.8 billion.

In its first year, 2009, the ETF rose 52%. Top holdings include stocks you probably wouldn't think of investing in: Donfeng Motor, Sociedad Quimica y Minera, and Wabco Holdings.

http://greentransportation.com/

For more on cleantech ETFs, see Issue 68, January 2010.

Energy Storage Stocks

This hasn't been a great year for energy storage stocks, but John Petersen, who we interviewed for this year's report on Energy Storage (Issue 70, April 2010), reported positive news from the 11th European Lead Battery Conference he attended in Istanbul.

As we discussed in Issue 70, stop-start is the most promising immediate new vehicle technology that's bound to be widely adopted. Stop-start systems took up an entire day at this year's conference - almost every major automaker is aggressively implementing it across their main product lines.

Petersen says the emerging consensus is the technology will be standard in all internal combustion engines by 2020, if not sooner.

Stop-start systems simply turn the engine off when the vehicle comes to a stop, which eliminates idling and therefore reduces fuel consumption and emissions without impacting performance. Estimated fuel savings vary from 10% in average city-highway driving to almost 20% in congested city traffic.

The systems currently come standard in hybrid vehicles because they have the premium battery needed to make them work. Automakers are working on the technology to make it applicable in conventional cars.

The engine has to start and stop on demand and it has to support accessory loads when the engine is turned off. The systems work well when batteries are new, but quickly degrade as they age. That's why a premium battery is necessary.
An advanced battery only costs a couple hundred dollars more, which doesn't add much to the price of a car, but it's a huge opportunity for lead-acid battery manufacturers like Exide Technologies (XIDE) Johnson Controls (JCI) and Enersys (ENS) because their margins and sales will skyrocket. It's an even bigger opportunity for developers of other advanced energy storage technologies that are better suited to the harsh demands of stop-start vehicles, Petersen notes.
Axion Power (AXPW.OB) is currently the front-runner because it's completed over a year of testing with BMW and has the only device that's demonstrated the ability to survive the BMW-Ford test protocol. It still faces industrial engineering and scale up challenges. Maxwell Technologies (MXWL) is a contender with its battery-supercapacitor product, as is CSIRO's utltrabattery, NiMH batteries and lithium-ion batteries.
Petersen expects large-scale fleet demonstrations for competing energy storage products in 2011, followed by commercial rollout in 2013 model year vehicles.

Read the full article.

Read PI Issue 70, April 2010, for details on the various companies.

Baldor Electric (BEZ)
Fort Smith, AR

Market Cap: $1.8 billion
Stock Price: $40
52 Week Range: $24.67-$41.51
Rating: BUY
Target: $47
Dividend: $0.68
www.baldor.com/
One of the lesser-known provisions of the 2007 Energy Independence and Security Act [EISA] are new efficiency standards that cover the majority of industrial electric motors. Over 30% of all electricity consumed in the U.S. is used to run motors. EISA goes into effect in December 2010 and will be a boon for motor manufacturers.

As the market leader for industrial electric motors in the U.S., Baldor will be a major beneficiary. Almost two-thirds of Baldor's sales are electric motors (the balance comes from power transmissions, drives, and generators) and Baldor claims to have more motor varieties that meet EISA standards than any company in the world. Sales are roughly split between new equipment and replacement parts.

82% of sales are in the U.S., however a 2007 acquisition gives Baldor access to manufacturing facilities in China, where sales are growing.

High-efficiency motors can be sold at a 20-30% premium because they require higher quality materials and manufacturing processes. Since electricity is 97% of the cost associated with running an electric motor for an industrial application, customers recoup the premium price in slightly under two years.
Once the legislation goes into effect, Baldor's management estimates that 50% of total shipment volumes will be new energy-efficient motors, up from approximately 17% now.

Baldor also benefits from the general shift to energy efficient products, such as replacing single-speed motors and gearboxes with variable speed motors, which save energy and maintenance costs. Their motors are also used in hybrid commercial trucks.

The company has good cash flow even after last year's very slow sales. Because of the 2007 Chinese acquisition, they are working off debt - they've paid down about a quarter of it and it seems manageable.

The stock is at its high for the year, having risen some 40% (it's been on our Buy list - see Stock Ratings), so investors might wait for a market drop before entering the stock. Earnings are likely to rise significantly in 2010 and 2011, bringing the P/E from its currently expensive 35 to a more reasonable 15. Baldor has great growth potential, but industrial equipment purchases are very cyclical.

Want to learn more? Canaccord Adams held a conference call on September 27,
"Assessing the Impact: New Motor Efficiency Requirements Coming Soon."

Randy Breaux, Baldor's VP of Marketing discussed the new motor efficiency regulations and how they may benefit Baldor's business going forward. View the presentation


Metalico (MEA)
Cranford, NJ

$186 million
Stock Price: $3.54
52 Week Range: $3.07 - 7.09
Rating: BUY
Target: $8
www.metalico.com
Metalico has been on our short list of recommendations in the recycling group, and now that commodities are rising it's a good time to buy the stock.

Since the start of Q3, platinum prices are up 8% and palladium prices are up 28%, according to Johnson Matthey data, and there have been steady volumes of end-of-life vehicles. Rising platinum prices typically translate into rising prices for catalytic converters, which is the source of about 32% of Metalico's revenue.

Canaccord Adams says, "We conclude that strength in platinum group metals prices and steady volumes of catalytic converters should translate into solid Q3 performance for this business segment." They note that MEA trades at just 4.7x EV/2011E EBITDA, well below the average 6x multiple of other metal recyclers.
Power-One (PWER)
Camarillo, CA
Market Cap: $923 million
Stock Price: $8.69
52 Week Range: $1.73 - 13.04
Rating: BUY
Target: $17.50
www.power-one.com
Investors in Power-One have seen the stock rise from just below $1 in 2009, and it still has significant upside potential.
PWER is one of the world's 10 largest power conversion manufacturers, making energy efficient converters for a wide array of industries, notably renewable energy and data centers.

The company had a record Q2 and continues to revise estimates upwards. Solar demand is driving revenue; they are using capacity as fast as they can build it. PWER's inverter capacity is at 2.5 GW, and is expected to reach 3.5 GW by year end and 4 GW in 2011.

Q2 revenue was $215 million, handily exceeding analyst estimates of $185.5 million and Q209 revenues of $91.2 million. The Renewable Energy division led with $142 million in sales. EPS for Q2 was $0.17, against estimates of $0.07 and Q209 EPS of ($0.08). Gross margins climbed from 19.9% in Q209 to 37% in Q210.


Trina Solar (NYSE: TSL)
Changzhou, China
Market Cap: $3.82 billion
Price: $27.42
52 Week Range: $14.39 - 31.18
Rating: BUY
Target $32
www.trinasolar.com/

Trina's stock price has risen a cool 73% in the year since we recommended it. As the de facto leader in crystalline PV, Trina is a vertically integrated low-cost leader with high margins of 28.5%. We consider it the top stock in PV, as First Solar is in thin-film solar.

Trina nearly quadrupled shipments in the first quarter. Q2 results also beat estimates and the company raised guidance for the year. The company continues to grab market share because of its quality product, low cost structure and geographic diversity throughout Europe, the US and China. TSL is likely to have a 9% global market share in 2010, up from 6% in 2009.

TSL has a strong balance sheet and posted impressive growth in 2009 even in the face of 45% declines in solar module prices. It expects the same for 2010. For Q2, Trina reported profits of $38.7 million, up from $18.6 million a year ago, and revenue soared from $150 million in 2009 to $370.8 million.

For Q2, TSL shipped 223 MW compared to 200-205 MW estimates. They expect to ship about 930 MW this year, with prices reaching $1.60 per watt. Gross margins of 32% are well above high 20s guidance, driven by lower processing and polysilicon costs. Production capacity is currently at 950 MW, expected to reach 1.5 GW by the end of 2011.
Ardour Capital boosted 2010 and 2011 estimates to reflect strong demand trends for the remainder of 2010 and announced capacity increases for 2011.


S.A.G. Solarstrom (SAG.DE)
Freiburg, Germany
Market Cap: €42 million
Stock Price: €3.76
52 Week Range: €2.56 - 5.22
Rating: BUY
Target: €5.50
www.solarstromag.com/

SAG continues to be our top pick among European solar companies. They reported record profits in 2009 and proposed its first dividend, and beat Q210 estimates on record sales. Revenues for Q210 rose 145%, reaching €53.7 million, well ahead of €41.3 million targets.

International sales grew 60% year-over-year in 2009 by making strong inroads in the robust Czech Republic market and SAG continues to position itself beyond Germany. Ardour Capital says Q2 sales could have been even stronger, but SAG avoided the temptation of deploying its full resources in the torrid German PV market in order to further strengthen in other markets such as Italy and France. France is expected to grow its PV market by 1.2 GW in 2011.

The stock is very undervalued because of its narrow investor following, but that should change as SAG reports more positive news.
++++
back to table of contents
Analyst Interview on Market Conditions
We spoke with Sam Jones, portfolio manager of the New Power Fund, on his take on the market and how green stocks are faring under current market conditions. Sam has an uncanny ability to continually be on target on market conditions. We've grown to trust his advice, thoughtfully offered to us over the past couple of years.
PI: Given that most green stocks have yet to participate in market returns, where are they now?

Sam Jones:

As we've talked about in the past, investors aren't interested in speculative stocks until late in the bull cycle. Right now, their attention is focused on safety, but when stocks are 100% off the lows, they'll be back. We've neither gained nor lost ground since we last spoke in June - the portfolio looks about the same.

Public dollars and private equity are still flowing into the sector - nothing has changed on that front. In fact, the solar group has been reporting excellent results, and looks ready to bounce.

My experience is that it's only after people bail out of renewables with total disgust we will be near the turning point. Look for people saying they've lost their patience, they have no temperament for it anymore, they've lost money. Then renewables will rise from the ashes and people will wonder why the stocks are going up - it will be because they're cheap and there's still promise.

Given the political situation and disappointment in the inability to pass energy legislation, investors need a long time horizon to benefit from the green economy trend. It will happen, but it's taking longer than any of us expected.

I encourage younger people with longer time horizons to stick it out, and I encourage older people that need immediate, consistent returns to invest elsewhere. People who have a 10-20 year time frame can clearly make money. For now, they should keep their allocations to reasonable levels so they can tolerate the strong swings.

PI: When we last spoke in June you were really depressed and frustrated. You sound better now.
Sam Jones:

That's because the sector and the overall market hasn't cratered as I thought it might back in June. We were in a death spiral then. It's since pulled itself out of the dumps and has stabilized. I'm seeing good long term bottoming action which changes the scenario from destructive to corrective. The market had been running hot for a year and needed a break.
But let's put this in perspective: in early 2009, the consensus was that stocks would fall across the board because of the broken financial system. Yet, investors enjoyed extraordinary results. This year, the consensus view was the opposite - they expected strong gains which resulted in an over-valued market. In 52 days, equity prices rose 15% without a hiccup.

Before the May drop, the atmosphere was giddy, a sure sign we were nearing a correction, but given everything that was happening in Europe and our economy, we could have been in for a fall. But no, the classic pattern prevailed: stock prices kept rising, investors became over-confident and poured money into the market. That was the set-up for a correction. Even without the string of world events, the market would be strong, but tired, and unable to move up again without a correction.

PI: What's happening with the solar group?

Sam Jones:

We've seen basing action, relative strength and volume pick up from a top down technical perspective. These trends began in August and are accelerating. If solar stocks go up another 5-6%, many will break their downtrend pattern, which is what technicians watch for. They're just basing right now, but they're showing reasonable strength.

We're accumulating some stocks right now - JA Solar (JASO) and First Solar (FSLR). Since solar stocks tend to move as a group, investors that don't want to pick stocks can buy a solar ETF (see our Issue 68, January, 2010 for a discussion of the two solar ETFs).

There's strong demand for solar, earnings have been strong, and stocks are cheap. A handful of large solar utility scale projects were approved this summer in California and the Mohave Desert region. Everyone's watching consumer behavior, but I think the big bang is utility scale solar. Power-One (PWER) is up over 100% for the year making inverters.

Smart grid projects are getting funding from the Recovery Act. As utilities embrace smart grid improvements, there will be more demand for solar and wind.

PI: What do you expect for the rest of this year and early next year?
Sam Jones:

Currently, the pattern argues for a little more corrective work through September, then the election cycle starts around October 6. Historically, that's a very favorable cycle for stocks. We're right on target - despite the fear of a double dip recession - to spiral up with the election cycle.

Last month, the Feds announced they would spend about $40 billion to buy Treasuries on the open market. That's why short term rates are falling dramatically. That quantitative easing is the equivalent of another stimulus - it adds liquidity to the market, which is fuel for stocks and credit markets. The more cash there is, the more credit's available, and the more money's available to invest. There's a lag time of about 2-3 weeks, which would synchronize with an early October bottom.

So, I think we'll muddle here for a couple weeks and have one more mild pull back and hit a nice low in October. Then we'll have a pretty strong fourth quarter rally.

This will be the last hurray of this bull market before it turns bearish in 2011. There's still too much deflationary pressure to sustain a longer term bull market before 2012-2013. Everything has to re-set; we still need assets to fall in price so they're attractive.

PI: Are you still looking at a 1300-1350 target on the S&P?
Sam Jones:

Yes, that's the marker. We reached 1200, backed off, and I think we'll push through when the late money comes in. After we hit 1300-1350 there's a real chance of serious failure - a wash out of some sort. We need to see all the cash on the sidelines enter the market before we see a real bear market. 2010 should end the year in the high single digits, which matches with the historic pattern of the second year of a bull market.

PI: It's reassuring that even in this difficult recession, we're still following the same old patterns.
Sam Jones:

People always think "this time is different." Although the magnitude is greater this time, the same pattern persists. That's because human behavior is consistent. I'm a big believer in cycles, not as a blunt trading instrument but as a guide.

Although commodities usually rise during this late phase and have outperformed stocks and bonds since mid- May, they won't rise substantially until there's growth and pricing power. Playing commodities in a deflationary cycle is suicide.

I think the economy is further along toward recovery than many think and commodities are next in line in terms of looking for a bottom. This is a good entry point for the sector. It will show itself as an established intermediate term uptrend later in the economic cycle but now is the time to begin accumulating positions.

Commodity prices are high, but it's hard to tell in the US where everything's dead. I was in Chile two years ago and was blown away by the growth and expansion. There are huge construction rigs in tiny towns dotted all along the coast. Still, emerging markets aren't big enough yet to make a huge, eye-opening impact on price. In two to three years, when the developed world re-gains some footing, there will be global demand for materials - that's when we'll see a serious resource scarcity problem, including food and water.

That's why we have to find solutions now. I see the next major growth phase for the world economies and stock markets in 2012-2013. It's a game of getting from here to there.

Investors would be wise to keep an eye on BRAC countries - Brazil, Russia, Australia and Canada. Rich in natural resources, stocks in these countries should outperform over time in an increasingly resource-constrained world.
PI: What are you seeing in the various green stock sectors?
Sam Jones:

Nothing much has changed. I'm seeing continuing strength in consumer stocks like Whole Foods (WFMI), United Natural (UNFI) and NBTY (NTY), lighting and some smart grid players.

Cisco's (CSCO) stock fell out of bed the last couple of weeks, but is getting a huge resurgence of enthusiasm now. That's a safer way to play smart grid, but EnerNoc (ENOC) is still doing well. Although Itron (ITRI) is a core smart grid stock, I'm not so sure about them anymore. People that are in charge of purchasing on the ground say Itron doesn't deliver and that private companies like Silver Spring Networks are picking up their business.

Solar stocks are still near their lows and there isn't a lot of leadership. Selling pressure seems to have subsided and if you have a regimented plan for accumulating solar stocks on weakness, you might start buying. I'm accumulating small positions of 3-4% each and will triple that if an uptrend emerges. I would consider solar a "Watch Buy."

We bought Power-One (PWER) earlier in the year when it was already in a well defined, strong uptrend. I hate buying then but there were so few stocks that were charging - and we made a ton of money on it. I'm nervous about it now, but it's still a leader and the markets are still chasing returns. JA Solar (JASO) is up 27% and Trina Solar (TSL) is up 50% for the year.

Wind, geothermal and other power generators are going nowhere right now, but their stock prices are very low and attractive for long term investors. The safest way to go is to stick with the big companies that have a strong presence like Siemens (SI). They're in multiple green sectors now including wind, smart grid and water. Westport Innovation (WPRT) is at a good entry point. American Superconductor (AMSC) has been popping recently.

In green building, Interface is up surprisingly up 62% for the year. We recently bought Autodesk (ADSK), which does design simulations. There's a ton of volume on the stock - it should do quite well when there's a resurgence in construction. Baldor (BEZ) has also been doing well, it's up 41% this year.
We're now 92% invested in the market. Being a green investor hasn't been easy since the glory years of 2006-2007, but I think a lot of pain is behind us now. Not that they will get up and run from here, but I don't think we'll see much heavy selling pressure. It's OK to start accumulating back in.

PI: The tipping point for clean energy and green stocks generally has been held up because of the collapse of Copenhagen, the US Energy Bill, credit markets drying up. It's been a perfect storm against renewables.
Sam Jones:

Absolutely. No demand, terrible credit market, no interest in speculation, and oil back to lower prices.

PI: And climate change deniers are in full swing - they're on top right now.
Sam Jones:

If the companies and stocks are hanging in there in the face of all this, then I consider it a victory. Instead of seeing bankruptcies and total disaster as we did in the early 1980s when President Carter's green policies were destroyed by President Reagan, we're seeing companies holding their own and in most cases, continuing to grow.

++++
Sam Jones
President, All Season Financial Advisors
Portfolio Manager, New Power Fund
back to table of contents
Stock Ratings
Stock Ratings from our research partners, Canaccord Adams and Ardour Capital:

This page is updated throughout each month. Check for updates.

When you see two Ratings, that means the rating changed from last month. The first is the previous rating; the second is the current rating, eg, Accumulate/ Buy

Currencies: "home" currencies

** foreign stocks that have US ADRs
** Best Idea Stock

Large Caps
Company
Ticker
Price
Target
52-Week Range
Rating
Target
Updated
Apple
AAPL
$309.78
$421
185.55-319
BUY
10/19/10
Google
GOOG
$593
$660
433.63-629.51
BUY
10/15/10
IBM
IBM
$142.83
$150
116-143
BUY
10/19/10

Apple: target raised from $320; solid Q3 results from iPhone 4, but iPad sales slightly under estimates. Anticipate solid longer term trends for both products.
Google: strong Q3 results from healthy growth in UTube, mobile. You should have bought it in 2009 when we recommended it at a fraction of this price!
IBM: Q3 beat estimates across the board. Trades at conservative multiples with a 2% dividend yield.

Healthy Living
Company
Ticker
Price
Target
52-Week Range
Rating
Target
Updated
Atrium Innovations
ATB.TO
C$17
C$24
11.45-17.98
BUY
3/19/10
BioExx Specialty Proteins
BXI.TO
C$2.75
C$4.10
1.28-2.93
Speculative BUY
11/2/10
Cereplast
CERP
$3.22
$6
2.78-7
BUY
8/17/10
GLG Life Tech
GLGL
$7.34
$11
6-12.45
BUY
4/27/10

Green Mtn Coffee

GMCR

$33.88

$40

19.87- 37.97

BUY

11/5/10

Hain Celestial
HAIN
$25
$26
14.45-25.50
BUY
10/25/10
Jamba Juice
JMBA
$1.98
$3.50
1-3.83
BUY
8/18/10
Martek BioSciences
MATK
$22.84
$26
17.09-25
BUY
9/24/10
Medifast
MED
$32.79
$40
6.36-36.58
BUY
5/6/10
NBTY
NTY
$54.09
$55
31.80-54.50
Tender
8/10/10
SunOpta
STKL; SOY.TO
$5.77
$6.50
2.65-5.84
BUY
8/18/10

United Natural

UNFI

$36.55

$38

23.29-37.48

BUY/Hold

10/25/10

Whole Foods

WFMI

$46.62

$50

24.94-46.66

BUY

11/4/10

Notes:
Atrium: price target raised from $19. Q4 revenue increased 33%, beating estimates; strong internal growth and acquired Trophic Canada, a leading natural nutritional supplement mfr.
BioExx: risk-tolerant investors can participate in commercialization of disruptive, economically compelling technology within large addressable market.
Cereplast: raised equity round, eliminating concern for cash flow. Solid base for growth.
GLG: strong 2010 expected; nearing EU approval for stevia.
GMCR: expect several years of rapid growth before maturation of single-cup coffee brewing. EPS can exceed $1 for each 5% market penetration.
HAIN: significant earnings growth expected in 2011.
Jamba: in the process of a turnaround, but long term prospects look good.
Martek: humming along with higher margins; long-term extensions with major infant formula customers, more expected.
NBTY: agreed to be acquired by Carlyle for $55/ share.
SunOpta: entering its most volatile quarter, but estimates raised for the year on strongest margins in its history ad category growth.
UNFI: unfavorable risk/reward for next couple quarters as they integrate new business and facilities.
WFMI: exceeding even the strong growth expected; raised 2011 guidance on strong margins and sales outlook.

Recycling
| | | | | | | |
| --- | --- | --- | --- | --- | --- | --- |
| Company | Ticker | Price | Target | 52-Week Range | Rating | Updated |
| Astec Industries | ASTE | $31.08 | $30 | 22.76-36.94 | Hold | 10/25/10 |
| Bioteq Environmental** | BQE.TO | C$0.62 | C$1.20 | 0.40-1.56 | Speculative BUY | 8/18/10 |
| Casella Waste | CWST | $4.40 | $6 | 2.55-5.39 | BUY | 9/8/10 |
| Covanta | CVA | $16.09 | $21 | 13.14-17.93 | Accumulate | 10/21/10 |
| Darling International | DAR | $7.53 | $9.50 | 6,.43-9.75 | Accumulate | 8/17/10 |
| GrafTech International | GTI | $16.46 | $20 | 11.68-17.78 | BUY | 10/29/10 |
| Headwaters | HW | $3.71 | $7 | 2.62-6.84 | BUY | 10/3/10 |
| Horsehead Holding | ZINC | $11.32 | $15 | 7.11-13.92 | BUY | 11/5/10 |
| Kadant | KAI | $18.90 | $25 | 10.90-22.77 | BUY | 10/28/10 |
| LKQ | LKQX | $20.74 | $21 | 16.50-22 | Hold | 9/24/10 |
| Metalico | MEA | $4.46 | $8 | 3.07-7.09 | BUY | 10/22/10 |
| Newalta | NAL.TO | C$8.67 | C$14 | 5.13-10.24 | BUY | 8/10/10 |
| Schnitzer Steel | SCHN | $51.33 | $67 | 37-60.12 | BUY | 10/21/10 |
| Sims Metal Mgmt | SMS | A$16.15 | A$20 | 13-23.60 | BUY | 10/27/10 |
| TEG Group | TEG.L | 41p | 80p | 33.50-48.5 | BUY | 7/2/10 |

Notes:
Astec: shares fully valued; stimulus winding down, no catalysts for the stock unless Obama's infrastructure bill passes.
Bioteq: attractive entry point; outperformed for Q2. Newalta is investing in Bioteq; proprietary water treatment for mines; expanding to oilsands and power sectors.
Casella: attractive valuation; raised revenue estimates
Covanta: mixed Q3 results, muted for the year.
Darling: expanding through acquisition, new biofuels mandate bodes well.
GrafTech: strong Q3 in tough market; game changing acquisitions of Seadrift, world's 2nd producer of Graftech's feedstock and C/G Electrodes, a competitor.
Headwaters: successfully fighting tough macro; improving balance sheet; street expectations remain low.
Horsehead: solid Q3 results; zinc prices firm; valuation at historic lows - it's time to buy this stock.
Kadant: strong Q3; broad strength across product lines and geographies. Backlog, orders up sharply.
LKQ: shares fairly valued. Anticipate positive Q3 outlook.
Metalico: BUY ahead of 10/29 results announced; expect bullish Q4 outlook, recent strengthing in prices and demand.
Newalta: strong quarter results, increased dividend 30%.
Schnitzer: strong quarter, upbeat outlook for ferrous volume growth and relatively stable pricing. .
Sims: mixed Q3 results, characterized by limited scrap flows and margin pressure, on-again/off-again demand trends. Solid results for non-ferrous scrap given relatively high prices and solid demand trends.
TEG: acquisition will double processing capacity and expand services. positioned to benefit from the UK's move to landfill bans; strong 2010 outlook.

Green Building
| | | | | | | |
| --- | --- | --- | --- | --- | --- | --- |
| Company | Ticker | Price | Target | 52-Week Range | Rating | Updated |
| Ameresco | AMRC | $11.98 | $16 | 9.34-14.17 | BUY | 11/4/10 |
| Apogee | APOG | $9.13 | $10 | 8.76-16.89 | Hold | 9/16/10 |
| ICF International | ICFI | $27.73 | $30 | 20.86-30.15 | BUY | 11/5/10 |
| Interface | IFSIA | $14.32 | $13 | 6.90-15.10 | Hold | 10/28/10 |
| Lime Energy | LIME | $3.60 | $6 | 2.77-7.60 | Speculative BUY | 9/21/10 |
| NCI Building Systems | NCS | $9.48 | $17.50 | 8-21.50 | BUY | 9/8/10 |
| Trex | TREX | $22.14 | $25 | 15.39-26.51 | Hold | 8/10/10 |

Notes:
Ameresco: excellent execution, raised 2010 guidance.
Apogee: margins under pressure as lengthy downturn in non-residential construction persists.
ICF: solid Q3; $1.4B backlog, growing 21% from efficiency projects for wide variety of gov't and commercial clients.
Trex: proceeding with turnaround, despite recession.
Interface: benefiting from market shift to carpet tile; strong, growing presence in emerging markets; ongoing cost control efforts; shares are fairly valued, buy on dips.
Lime: better than expected Q2, raised guidance; previously delayed stimulus projects getting funded; $92M backlog, management bullish.
NCI: exceeded estimates again; making solid progress despite difficult residential market.
Trex: solid Q2, expect strong margin expansion. Shares fairly valued.


Efficiency/ Energy Storage
| | | | | | | |
| --- | --- | --- | --- | --- | --- | --- |
| Company | Ticker | Price | Target | 52-Week Range $ | Rating | Updated |
| Active Power | ACPW | $1.62 | $2 | 0.70-1.62 | Accumulate | 10/28/10 |
| Acuity Brands | AYI | $41.19 | $41 | 30.13-47.91 | Hold | 8/10/10 |
| Aixtron | AIXG | $28 | $32 | 16.28-38.96 | Hold | 8/10/10 |
| American Superconductor | AMSC | $36.56 | $50 | 24.35-43.95 | BUY | 11/3/10 |
| Badger Meter | BMI | $41.89 | $45 | 32.58-44.71 | Hold | 10/21/10 |
| Baldor Electric | BEZ | $41.46 | $47 | 24.67-43.31 | BUY | 10/28/10 |
| Beacon Power | BCON | $0.35 | $1.50 | 0.28-1 | BUY | 8/10/10 |
| C&D Technologies | CHP | $0.93 | $1 | 0.88-3.12 | Hold/SELL | 4/21/10 |
| Capstone Turbine | CPST | $0.95 | $1 | 0.90-1.57 | Accumulate/Hold | 8/10/10 |
| Comverge | COMV | $8.10 | $11 | 7.90-13.36 | Accumulate | 8/10/10 |
| CREE | CREE | $54.47 | $47 | 40-83.38 | Hold | 10/21/10 |
| Day4 Energy | DFE.TO | C$0.80 | C$0.83 | 0.33-1.32 | Speculative BUY | 11/9/09 |
| Dialight | DIA.L | 430p | 475p | 192-456.5 | BUY | 11/4/10 |
| Echelon | ELON | $7.98 | $10 | 6.85-14.09 | Hold | 11/4/10 |
| EnerNoc | ENOC | $29.82 | $42 | 24.10-37 | BUY | 11/5/10 |
| Enersys | ENS | $22.52 | $30 | 18.61-27.23 | BUY | 8/13/10 |
| Esco Techn. | ESE | $32.37 | $35 | 24.55-42.70 | Hold/Accumulate | 8/10/10 |
| Exide Technologies | XIDE | $7.18 | $6.75 | 3.60-8.72 | Accumulate | 11/5/10 |
| Fuel Tech | FTEK | $6.45 | $8 | 5.15-11.07 | BUY | 11/5/10 |
| Itron | ITRI | $62.96 | $80 | 52.05-81.95 | BUY | 10/28/10 |
| Maxwell Technologies | MXWL | $15.56 | $17.50 | 10.16-19.28 | BUY/Accumulate | 10/29/10 |
| Nexxus Lighting | NEXS | $2.99 | $7 | 2.66-7.22 | BUY | 1/27/10 |
| Orion Energy Systems | OESX | $3.88 | $5 | 2.10-6.35 | BUY | 10/2710 |
| Polypore | PPO | $32.74 | $40 | 10.48-36.99 | Accumulate | 11/5/10 |
| Power Integrations | POWI | $35.01 | NA | 16.75-37.15 | NA | 2/23/10 |
| Power-One | PWER | $11.18 | $17.50 | 2.52.-13 | BUY | 10/29/10 |
| Rubicon Techn | RBCN | $25.31 | $36 | 13.20-35.90 | BUY | 11/5/10 |
| RuggedCom | RCM.TO | C$14 | C$21 | 11.19-22.30 | BUY | 10/5/10 |
| Satcon Technology | SATC | $4.18 | $3.60 | 1.83-4.53 | Hold | 10/28/10 |
| Telvent** | TLVT | $22.51 | $32 | 16.57-41.65 | BUY | 9/28/10 |
| Ultralife Batteries | ULBI | $5.34 | $5 | 3.42-5.50 | Accumulate | 10/28/10 |
| Universal Display | PANL | $26.13 | $27 | 10.30-26.98 | BUY | 11/5/10 |
| Veeco Instruments | VECO | $39.94 | $34 | 22.77-54.50 | Hold | 10/26/10 |
| Zenergy | ZEN | 85p | 200p | 84-151 | BUY | 3/23/10 |

Notes:
Active Power: record Q3 results; expect continued sales growth in coming quarters.
Aixtron: very strong quarter, but shares fairly valued given digestion period in industry.
American Superconductor: Q3 sales in-line but earnings jump, strong backlog, raised estimates. Chinese wind market continues to drive growth; entering solar market.
Badger: Strong quarter driven by stimulus. potential to raise prices and win business in 2011 supports near term valuation.
Baldor: Q3 well above estimates; upcoming requirements for super-efficient motors.
Beacon: secures DOE loan guarantee, significant milestone. Quarter's results in line.
C&D: completed new financing, but at a significant price; concerns about balance sheet.
Capstone: quarter's revenues well below estimates, target reduced from $1.30.
Comverge: target down from $13.50, because of lower margin expectations; positive outlook.
Cree: price war among LED Tier 1 suppliers which will pressure margins and near term estimates.
Dialight: target raised from 365p. In-line quarter; industrial LED lighting shows strong growth; UK traffic market taking off.
Echelon: encouraging quarter; pioneering role in European smart grid projects, no catalysts now.
EnerNOC: solid Q3, but high expectations keep shares volatile; successfully mining existing markets for deeper penetration.
Enersys: missed target, by y/y growth; backlog up, demand promising. $100M in additional annual revenue in FY2011 due to acquisitions, along with presence in China.
Esco: soid quarter, positive outlook for the rest of the year; risk/reward balanced.
Exide: revenue and EPS beat estimates.
Fuel Tech: operating conditions remain challenging, potential for modest improvement in 2011.
Itron: important collaboration with Cisco; guidance conservative; record backlog of $1.7B.
Maxwell: strong Q3 revenues, earnings fall short; poised for growth in Chinese hybrid bus & EU auto markets; and in stop/start in cars.
Orion: attractive valuation; efficiency upgrade trends improving and almost always include lighting.
Polypore: target raised based on growth prospects; battery demand driving growth. Speeding up capacity expansion, reducing debt.
Power-One: another strong quarter; raised estimates for 2010-2011 on strong solar demand.
Rubicon: sapphire prices rising, pricing guidance is conservative; shares should appreciate in near term but remain volatile over coming quarters, especially as prices reach peak next year.
RuggedCom: bullish outlook; strong market share,but order flow could be lumpy.
Satcon: fully valued despite order momentum, improved balance sheet.
Telvent: bullish outlook remains; business resilient despite lingering EU concerns; strong backlog, bookings. Near term catalysts.
Ultralife: Q3 EPS was double estimates; global demand trends supportive.
Universal Display: OLED space growing; beat estimates; waiting on Samsung agreement to fully lever market position.
Veeco: strong quarter, but relying on China to offset slowdown. Cyclical digestion period in equipment industry.
Zenergy: 2 high temp superconductor products commercialized; good growth potential over the next 12 months.

Solar


Company
Ticker
Price
Target
52-Week Range
Rating
Target
Updated
5N Plus
VNP.TO
C$5.33

C$5

4.40-7.74
BUY/Hold
1/14/10
Arise Technologies**
APV.V
C$0.20
C$0.90
0.18-0.66
SELL
8/18/09
Ascent Solar
ASTI
$4.26
$2.25
2-6.19
Reduce
11/4/10
ATS Automation
ATA.TO
C$6.08
C$8.75
5.46-8.45
BUY
11/4/10
Canadian Solar
CSIQ
$12.52
$15
8.99-33.68
BUY
8/25/10
Carmanah Technologies
CMH.TO
C$0.66
C$1.40
0.57-0.95
BUY
9/23/10
China Sunergy
CSUN
$4.12
NA
1.36-6.40
NA
1/11/10
Conergy AG**
CGY.DE
€0.72
NA
0.34-1.90
NA
DyeSol
DYE.AX
A0.87
NA
0.62-1.15
NA
Energy Conversion Devices
ENER
$4.98
$3
3.76-14.21
Reduce
9/8/10
Ersol Solar
ES6.DE
€106.43
NA
92-112
NA
E-Ton Solar
3452.T
TWD77.60
NA
62.10-121.50
NA
1/11/10
Evergreen Solar
ESLR
$0.69
$0.60
0.62-2.10
Reduce
8/10/10
First Solar
FSLR
$138
$180
98.71-153.30
BUY
10/29/10

GT Solar

SOLR

$7.81

$10

4.51-7.98

BUY

8/10/10

Hoku Scientific
HOKU
$3.03
$2
2.09-3.78
Sell
11/5/10
JA Solar
JASO
$8.69
NA
1.77-6.95
BUY
10/3/10
LDK Solar
LDK
$6.14
NA
3.75-14.27
NA
1/11/10
MEMC
WFR
$12.08
$11
9.19-16.99
Hold
11/2/10
Phoenix Solar AG
PS4.DE

€33.19

€39
25.63- 45.12
Accumulate
7/13/10

Power-One

PWER

$4.15

$5.50

0.82-4.81

BUY

3/29/10

Q-Cells AG**
QCE.F
€4.92
€5.70
4.62-19.25
Reduce
5/18/10
Real Goods Solar
RSOL
$3.20
$6
1.98-4.80
Speculative BUY
11/4/10
ReneSola
SOL
$4.93
NA
2-7.90
NA

SAG Solarstrom

SAG.DE

€4.45

€5.50

2.29-4.80

BUY

8/25/10

SolarFun Power
SOLF
$11.22
$15
4.48-12.30
BUY
8/10/10
Solar Millennium
S2M.DE
€30.64
NA
6.11-45
NA
SolarWorld AG**
SWV.DE
€10.15
€9
7.86-17.64
BUY
8/10/10
Solon AG**
SOO1.DE
€4.75
€4.50
3.72-11.50
Reduce
6/1/10
Spire Corp.
SPIR
$4.21
Discontined Converage
3.28-9
Reduce
4/5/10
SunPower
SPWRA
$12.93
$17
10.11-33.97
Hold/Accumulate
8/11/10
Suntech
STP
$8.76
$10
8.43-18.78
Hold
8/25/10
Systaic AG
SJK.DE
€1.13
€0.70
0.88-7.75
Reduce/SELL
5/28/10

Trina Solar

TSL

$26.24

$38

14.85-31.89

BUY

10/25/10

Westinghouse Solar
WEST
$0.54
$1
0.51-1.76
BUY
10/21/10
Yingli Green Energy
YGE
$11.90
$10
8.31-19.11
Hold
11/4/10

Notes:
5N: price target reduced from $6.25; this is the third quarter that results are below expectations.
Arise: Balance sheet risk too high.
Ascent: flurry of positive announcements; lower than expected Q3 revenues, but gaining BIPV traction in Europe. Received crucial UL certification, which allows them to sell in US. Should be catalyst for the stock but maintain Sell rating because of slower than expected manufacturing ramp; stock will begin to be valued on fundamentals as commercial volumes ramp in 2011. Needs capital in 2011.
Canadian Solar: internal investigation from SEC subpoena concludes company accounted results properly. Foreign exchange and reliance on outsourced components are headwinds but has resolved manufacturing issues and will produce internally again.
Carmanah: acquisition of global LED power supplier, Lightechgrowth, adds exposure to LEDs; systems business to grow from Ontario feed-in law.
ENER: target reduced from $4.50; weak demand dampens revenues; increasingly competitive landscape.
Evergreen Solar: good quarter, but target reduced from $1. Potential to grow following build out of China JV.
First Solar: strong Q3, but lower margins; raised 2010 guidance. Capacity doubled by 2012.
GT Solar: target raised from $6; strong order momentum, guidance raised; acquires LED sapphire producer.
Hoku: getting debt financing, but interest payments climbing. Low volumes, margins expected.
Phoenix: bellweather European plant operator should grow substantially in 2010.
Power-One: impressive growth and improving operations. Strong 2010 outlook.
Q-Cells: target cut from €6.50. Restructuring to regain competitiveness; diversifying into module mfr and distribution, project development.
Real Goods: Q3 beat estimates on revenue and earnings; margins up strongly; good play on CA solar market.
SAG: revenues surge 145% y/y, well ahead of estimates, boosting profitability. Refocused strategy on project development paying off in addition to German pull-forward from expiring feed-in.
Solarfun: strong Q2, new strategic investor, $30B Hanwha Gp, marks new era of access to finance, construction, partnerships.
SolarWorld: Q2 well ahead of estimates; 69% y/y revenue growth; benefiting from strong sales prior to German feed-in cut. Flush balance sheet. Strong growth for 2010.
Solon: revenues grew 132% y/y, EBIT breakeven expected in Q2. Faces mountain of debt - received refinancing lifeline.
Spire: discontinued converage due to deteriorating performance and lack of investor interest.
SunPower: strong pipeline and expected cost improvements support strong 2011 outlook. Growing dealer network is retaining price premium.
Suntech: strong volume, but challenged margin outlook.
Systaic: weak Q1, company existence in question. Previous CFO misled investors on company's balance sheet; internal turbulence, cash flow problems.
Trina Solar: target raised from $32. Raised 2011 estimates on positive industry trends of strong demand and pricing.
Westinghouse Solar (formerly Akeena): nearterm pain, long term gain. Divested residential installation business, negatively impacting revenue, but reduces expenses. Distribution business is more scalable in long term.
Yingli: announced note conversion which will dilute shares; increased 2010 earning estimates on higher margins.

Wind
Company
Ticker
Price
Target
52-Week Range
Rating
Target
Updated
A-Power Energy
APWR
$13.45
NA
3-21.04
NA
1/11/10
Broadwind Wind Energy
BWEN
$4.95
NA
2.60-12.49
NA
1/11/10
Clipper Wind**
CWP.L
75p
100p
75-179
Reduce/Accumulate
6/9/10
EDP Renovaveis
EDPR
€4.71
€7.50
4.65-4.75
BUY
8/10/10
Gamesa**
GAM.MC
€6.74
€6.75
6.66-16.20
Hold
7/30/10

Iberdrola** Renovables

IBR.MC

€2.68

€4

2.36-3.51

BUY

7/30/10

Japan Wind Development

2766.T

¥228,600

NA

220,200-473,000

NA
Japan Wind
Nordex**
NDX.F
€7.24
€6
6.53- 13.89
Reduce

5/18/10

PNE Wind

PNE3.DE

€2.06

€3.50

1.59-2.49

BUY

6/15/10

REpower Systems

RPW.DE

€118

€140

117-148

Hold/BUY

6/2/10

Theolia**
TEO.PA
€3.09
NA
1.09-5.48
NA
Vestas Wind**
VWS.CO
DKK288
DKK250
247-398
Hold/Reduce
8/10/10

Notes:
CanHydro: TransAlta agrees to buy company for $5.25 per share in an all-cash offer. Investors recommended to tender to the offer.
Clipper: after 3 years of losses and the CEO stepping down, United Technologies took a 49% stake, bringing in much needed cash and mfr/logistics excellence. Should be profitable in 2011.
EDP: gross profit up strongly on new installations, but net income down more than expected.
Gamesa: target reduced from €9.50; Q2 mirrors industry slow-down, but cost controls keep GAM in black. Idle capacity and intense competition for turbine manufacturers.
Iberdrola: trades below book value. stable electric prices and new capacity; 93% of production covered by feed-in tariffs for 2010. Wind farm operators stronger than turbine producers right now. Stronger balance sheet than EDP, double the order pipeline.
Nordex: target reduced from €11; wind industry faces continued headwinds, substantial over-capacity.
Nordex: production down 40% and sales down 35% y/y; almost all sales in Europe, China stalled. Breakeven earnings. Low orders in Q1.
PNE: much higher than expected Q1 results; developing 53MW of projects; raised €28M, bullish outlook.
Repower: 27% increase in profits y/y with margin growth. Will pay dividend of €1.57 per share for 2009/10. Unlike peers, orders increasing.
Vestas: likely to continue facing hard times. Weak US market, low natural gas prices, challenging competitive landscape.

Geothermal/ Wave Energy


Company
Ticker
Price
Target
52-Week Range
Rating
Target
Updated

Alter Nrg

NRG.TO
C$2.05
C$2.75
0.60-2.98
Hold
3/22/10
LSB Industries
LXU
$17.27
$16
10.62-19.96
Hold
9/9/10
Ocean Power Technologies**
OPTT
$6.90
NA
3.78-11.22
NA
Ormat Technologies
ORA
$28.19
$29.50
25.80-44.13
Hold
11/4/10
Raser Technologies
RZ
$1.02
NA
0.88-4.80
NA
11/2/09
US Geothermal**
GTH.TO
$0.95
$1.80
0.83-2.09
Accumulate
2/10/10
WaterFurnace**
WFI.TO
C$25.31
C$31.50
22.07-28.59
BUY
8/10/10

Notes:
Alter Nrg: target reduced from $3.25; developmental stage turnkey geothermal installer expects order flow later this year.
LSB: ongoing sluggish construction trends; no near term catalyst for the stock; production delays because fire in the building.
Ormat: Q3 exceeds estimates because of higher electricity prices, but low growth prospects in near term.
US Geothermal: undervalued compared to peers; strong company, good pipeline. Will need more cash to grow portfolio and reach profitability.
WaterFurnace: outperforming - revenue up 16% for quarter; gained market share despite significant headwinds. Excellent management. Pullback in stock over past months offers buying opportunity.

Biofuels/ Transport
| | | | | | | |
| --- | --- | --- | --- | --- | --- | --- |
| Company | Ticker | Price | Target | 52-Week Range | Rating | Updated |
| BYD Company | 1211.HK | HK63.55 | NA | 13.38-88.40 | NA | |
| Canadian National Railway | CNI; CNR.TO | C$68.48 | C$78 | 50.75-68.58 | BUY | 10/27/10 |
| Canadian Pacific Railway | CP; CP.TX | C$64.89 | C$75 | 42.05-66.72 | BUY | 10/21/10 |
| Clean Air Power | CAP.L | £24 | £35 | 17.41-42 | BUY | 5/14/09 |
| Dynamotive Energy | DYMTF | $0.15 | $1.10 | 0.13-0.51 | Hold | 1/11/10 |
| Fuel Systems Solutions | FSYS | $38.52 | $38 | 24.50-52.53 | Hold | 11/5/10 |
| Gushan | GU | $0.73 | $1 | 0.70-2.16 | Hold | 8/25/10 |
| Westport Innovations** | WPRT; WPT.TO; | $17.76 | $13.75 | 7.05-21.34 | Hold | 8/10/10 |
| Zongshen PEM Power Systems | ZPP.TO | C$1.11 | C$1.40 | 0.76-1.57 | Hold | 8/10/10 |

Notes:
Clean Air: raised £2.4M, reducing risk
Canadian National Railway: beat estimates, EPS up 23%. Good buying opportunity.
Canadian Pacific Railway: strong but slowing sales expected as volumes normalize.
Fuel Systems: mixed Q3 diversifying outside Italy.
Gushan: continues to face challenges; ongoing consumption tax issue keeps production low. Signs of stabilization.
Westport: revenue increased 17% y/y; lower shipments offset by higher margins, lower costs. Shipments impacted by wait and see approach pending clarity on natural gas incentives for fleets. Signed agreement with Volvo Powertrain.
Zongshen: now 6th largest Chinese motorcycle manufacturer after acquisiton, but market is mature and competitive.


Fuel Cells/Hydrogen
| | | | | | | |
| --- | --- | --- | --- | --- | --- | --- |
| Company | Ticker | Price | Target | 52-Week Range | Rating | Target Updated |
| Ballard Power Systems | BLDP | $1.71 | $2 | 1.49-3.25 | Hold | 8/10/10 |
| Fuel Cell Energy | FCEL | $1.10 | $2.25 | 0.98-4.61 | Accumulate | 9/8/10 |
| Hydrogenics Corp. | HYGSD | $0.23 | $0.50 | 0.21-0.75 | Hold | 2/9/10 |
| Plug Power | PLUG | $0.53 | $1 | 0.49-1.35 | Hold | 3/15/10 |
| Quantum Fuel Systems | QTWW | $0.51 | $0.50 | 0.47-1.77 | Hold | 7/13/10 |
| SFC Energy | F3C.DE | €5.59 | €6.50 | 4.78-9.19 | Accumulate | 8/10/10 |

Notes:
Ballard: mixed Q2; core business slow, but key customers remain.
Fuel Cell: results beat estimates; near term order trends remain positive.
Plug Power: backlog improving, enough cashflow for 1-2 years.
Quantum: lackluster revenue, supplying systems for Fisker Karma PHEV, to launch later in 2010, which should increase sales, but in the meantime reduced target from $1.
SFC Energy: Q2 missed; near term trends worrisome, but positioned for 2011 growth.
Water
| | | | | | | |
| --- | --- | --- | --- | --- | --- | --- |
| Company | Ticker | Price | Target | 52-Week Range | Rating | Updated |
| Aqua America | WTR | $17.27 | NA | 15.39-20.37 | NA | |
| BWT AG** | BWT.AV | €20.15 | NA | 9.64-21.84 | NA | |
| Calgon Carbon | CCC | $14.67 | $21.50 | 11.75-18.35 | BUY | 11/2/10 |
| Energy Recovery | ERII | $3.66 | $4 | 3.08-7.28 | Hold | 11/4/10 |
| GLV | GLV.A.TO | C$7.55 | C$11 | 7.19-10.35 | BUY | 9/24/10 |
| Insituform Technologies | INSU | $22.90 | $24.50 | 17.75-28.38 | Hold | 10/27/10 |
| Met-Pro | MPR | $9.35 | $12 | 8.65-11.62 | Accumulate | 9/8/10 |
| Nalco Holding Co. | NLC | $27.36 | $33 | 20.15-29.25 | BUY | 10/27/10 |
| Pentair | PNR | $33.21 | $35 | 28.71-39.32 | Hold | 10/27/10 |
| Pure Technologies | PUR.V | C$4.38 | C$6.50 | 3.65-5.30 | BUY | 10/21/10 |
| Rino International | RINO | $13.83 | $25 | 4.51-35.15 | BUY | 5/18/10 |
| Tetra Tech | TTEK | $21.76 | $23.50 | 18-28.18 | Hold | 11/5/10 |
| Veolia Environnement** | VE | $32.39 | NA | 19.14-40 | NA | |

Notes:
Calgon: demand exceeds production.
Energy Recovery: missed quarter's estimates, faces many short term challenges, but strong longer term potential.
GLV: getting known outside of Canada for water treatment and recycling, expansion expected.
Insituform: risk/reward balanced at current levels.
Met-Pro: continues growth while lowering costs; strong balance sheet, anticipate steady performance in FY2011.
Nalco: beat estimates, double digit growth in all segments, bullish guidance; undervalued; strong position in water treatment technology; emerging presence in multi-pollutant air emissions control.
Pentair: risk/reward balanced at current levels, but positive longer term on new energy and water efficiency products expand internationally.
Pure: acquired Australia-based Aqua Environmental- where long drought makes it ripe for leak detection services. Stong balance sheet, backlog of C$51M. Pure China represents them in China, where substantial water infrastructure investment is underway.
RINO: quarter results weaker than expected, lower margins expected to remain; restrained capacity until new facility completed in May 2011. Target lowered from $34 - reduced forecasts.
Tetra Tech: solid quarter against tougher Street sentiment.
++++
back to table of contents