In January, the US Department of Agriculture released an updated version of its Plant Hardiness Zone Map - the first major overhaul since 1990.

That version iss already outdated because of the rapid climate changes dues to global warming, according to independent research.
The USDA hardiness map shows landscapers and gardeners which "zone" they are in, helping them determine which trees or perennials are likely to survive a typical winter in their region.
Research from the City College of New York (and supported by the National Oceanic and Atmospheric Assocation) suggests the current map doesn't properly account for an acceleration in winter warming trends.
Zones are based on annual minimal temperatures; each has a minimum temperature range of 10 degrees Fahrenheit, while a half-zone reflects a 5 degree swing. Many US regions were shifted one zone higher on the USDA's January update, but the new research suggests that change might not go far enough.
That's because to calculate the zones, the USDA uses average minimum temperatures from 1976 to 2005. Since then, however, most zones have been recording temperatures at least 2 degrees Fahrenheit warmer than that average, says Professor Nir Krakauer, an assistant professor of civil engineering at the City College of New York.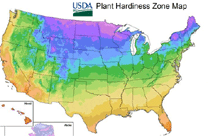 More than one-third of the US has shifted at least a half zone compared with the current January 2012 map (above) while one-fifth has moved one full zone, according to Krakauer's research.
"What is happening is that the winter is warming faster than the summer," says Krakauer. "Since [my] temperatures are based on minimum temperatures each year, they are changing faster than the average temperatures."
While we've all been trained to think of fig trees as indigenous to southern climates, for example, they might now do fine in New York or Boston. Camellias that once had to be planted south of Ohio are now likely to weather a winter in a place like Detroit, says Krakauer.
The changes have implications for diseases, since insects and pest that used to die off over the winter are becoming perennial themselves. On the flip side, it could mean longer growing seasons and decreased risks for local agriculture in northern regions of the US.
Whether or not this research will warrant another update to the map – which hadn't been changed in more than 20 years before the January revision – is another matter entirely. But as landscapers and gardners begin to prepare for the US winter, it's good data to consider.
For more about the hardiness zone research: