Chipotle Mexican Grill (NYSE:CMG), a pioneer in using organic produce in fast food, served 10 million pounds of locally grown vegetables last year.
That's double the 5 million pounds it sourced in 2009, when Chipotle committed to buying more ingredients from local, family-owned farms within 350 miles of its restaurants.
Depending on the location, Chipotle's strategy covers bell peppers, red onions, jalapenos, oregano and romaine lettuce used in salsas, salads and fajitas (among other menu items). In Florida and California, the company also buys local tomatoes; in California, the program covers lemons and avocados.
"Supporting local farms continues to be important to us," says Steve Ells, founder, chairman and co-CEO of Chipotle. "Food that is locally grown is fresher and better tasting, and supports local farm communities around the country. Making local food accessible is an important part of our commitment to providing better food, from more sustainable sources. It is a key element in our effort to change the way people think about and eat fast food."
Research from Mintel suggests more than half (52%) of U.S. consumers believe it's more important to buy local produce than organic options.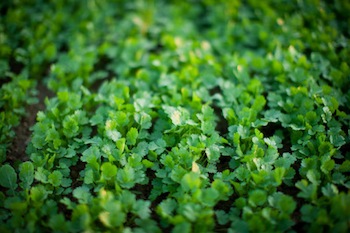 Last year, Chipotle's 1,300 restaurants used 3.6 million pounds of locally sourced bell peppers, more than 400,000 pounds of jalapenos, 2 million pounds of red onions, 4.7 million pounds of romaine lettuce, and more than a combined 300,000 pounds of cilantro and oregano.
Aside from its local sourcing commitment, Chipotle is working with Food Alliance-certified growers to source beans cultivated with conservation tillage methods that reduce soil erosion. It sources 100 percent of its meat from animals that are naturally raised (the animals are never given antibiotics or added hormones), and is increasing purchases of milk from pasture-raised dairy cattle for its cheese and sour cream.
"Finding local suppliers to meet our needs is challenging, but very much worth the effort," says Ells.
Chipotle, still the only US fast food chain to support a local produce sourcing program, has committed to buy at least 35 percent of one bulk produce item in each restaurant from local restaurants when it is seasonally available.
Last August, the company created the nonprofit Chipotle Cultivate Foundation to support sustainable farming practices.
Chipotle is also a pioneer in renewable energy and green building design. The company has installed or is installing solar at least 75 restaurants. It also was the first restaurant to receive LEED Platinum certification (the highest level) from the U.S. Green Building Council for its Gurnee, Ill., location. Among other things, the restaurant features an on-site wind turbine and an underground cistern that captures rainwater for irrigation.
More on Chipotle's local produce sourcing strategy: