Just after Better Place went out of business because it couldn't gain traction for its battery swapping technology, Tesla Motors has debuted a system that does the same thing.
Tesla want to give people who buy its electric cars a choice – they can either swap the battery when it needs to be charged or hook up to charge their existing battery.
When Model S drivers pull up to one of Tesla's charging stations, they'll have a choice: they can either swap their battery for a fully charged one in just 90 seconds or hook up to charge their existing battery, which takes about 30 miinutes.
Hooking up is free, while swapping costs the same as filling up a 15-gallon tank of gas.
If you're making a round-trip, you can pick up your original battery – fully charged – on the way back without paying an extra fee.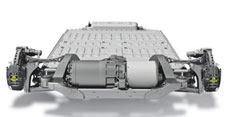 As he demonstrated the system yesterday, CEO Elon Musk said he's trying to convince people that EVs are "more convenient than a gasoline car." He showed that swapping the battery takes less time than filling up a conventional car at a gas station, which takes about four minutes.
"There are people that take a lot of convincing. I think it's important for us to address the reasons people are not buying electric cars. People need to feel they have the same level of freedom they have with gasoline cars. If they need to get somewhere in a hurry, they can do that. In fact, they can get there faster," explains Musk.
Tesla says it costs about $500,000 per battery swap station and between $50 million to $100 million to build out a nationwide network. The first stations will begin appearing alongside Tesla's hook-up charging stations this year, initially in the corridor between Los Angeles and San Francisco and then between Washington-to-Boston.
Tesla has a much better chance of succeeding with swapping technology than did Better Place since it manufactures its own cars. Better Place had to rely on electric vehicle makers to incorporate a standardized battery and technology into their cars that allows batteries to be swapped.
Also, Better Place was a middleman and needed to make a profit on battery swapping, while Tesla views it as a cost of doing business. Better Place had to lease the batteries while Tesla makes them.
And since Tesla's Model S has a 250 mile driving range on a charge, drivers get the same range as many gas-driven cars. Battery charging/ swapping is only needed for long trips. In the future, as batteries get more powerful, battery swapping would allow people to upgrade easily.
Here's Tesla's website, which explains the process:
Website:
[sorry this link is no longer available]
(Visited 57,774 times, 6 visits today)