Progressive Investor

Sample Article
Green Building Update; Market Commentary; Market Conditions Interview; Stock Ratings
Issue 72: September 2010
Market Commentary
The US stock market has risen almost every day since the beginning of September, and we're now in positive territory for the year.

Bears are giving way to bulls as an increasing number of analysts view the past months as a correction, rather than the lead-in to a bear market. Fears of the dreaded double dip recession, which were behind much of the tumbling market, are receding. In fact, the latest economic reports point to continued recovery, albeit slower than impatient Americans prefer. Expect the economy to grow unevenly, in fits and starts, with bad news among the good.

As of now, the economy is on track for 1.5-2% growth this year and, although fragile, the sources of growth are expanding beyond government stimulus and manufacturers replenishing inventory. Housing, manufacturing and consumer spending are all improving.

Corporate Earnings Strong

About 75% of S&P 500 companies beat analyst earnings expectations in the second quarter with impressive average year-over-year earnings growth of 38%. Rather than growing profits through cutbacks, this round of results was from revenue growth.

Renewable energy firms did even better. Most beat estimates and many raised guidance for the second half of the year.

HSBC recently reported that clean energy companies have proved resilient to the global financial crisis and recession. Global revenues for the sector were about $530 billion last year, down only slightly from 2008′s $534 billion.

Efficiency-related stocks have been on top -no surprise in a period in a recovering economy, where efficiency gains can contribute to the bottom line. Solar firms are seeing some light on the market while wind continues to lag.

Renewable Energy Developments
Developments on the ground are also having an effect on market conditions for renewable energy. While the Recovery Act is enabling the largest solar projects to date to move ahead, political deadlock and the threat of Republicans gaining a majority in Governor and Congressional races threatens the industry's progress and stock market conditions.
On the positive side, the California Energy Commission approved large landmark utility-scale concentrated solar projects during the past month that will power 1.6 million homes: Solar Millenium's (S2M.DE) mammoth 1 GW plant; Tessera Solar's 850 MW plant; BrightSource Energy's 392 MW plant; NextEra Energy's (NEE) 250 MW plant; and; and Abengoa's (AGB.MC) 250 MW plant. Read the NY Times article about these projects.
2010 is a historic year for the global PV market - it's forecast to double, exceeding 16 GW installed, according to IMS Research. Growth is being driven by strong demand ahead of the feed-in cuts in Europe, and in North America and China. They expect considerable slowdown in 2011, however, as the industry copes with major revisions to key countries' incentive schemes and potential over capacity and price pressure throughout the supply chain.

The industry grew 89% in 2008 and 51% in 2009, when it installed a record 10.7 GW globally. By the end of 2009, nearly 23 GW was installed worldwide, enough to power 4.6 million U.S. homes. First Solar (FSLR) was the top PV manufacturing firm in 2009, contributing roughly 10% of world PV production.

China led for the second consecutive year, producing 3,800 MW in 2009. China and Taiwan, in third place, accounted for 49% of all PV manufacturing. Japan took second place, Germany was fourth, and the U.S. was fifth. Japan, which dominated the global market in 2004, controls just 14 percent today.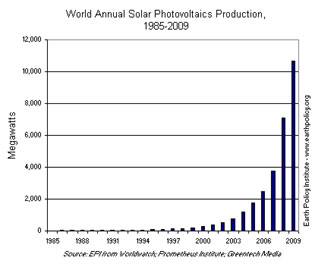 On September 23, the California Air Resources Board unanimously raised the state's Renewable Energy Portfolio Standard from the current 20% target by 2010 to 33% by 2020 - the strictest in the U.S. 15% of California's electricity came from renewable sources in 2009.

However, if the oil industry's ballot to kill California's landmark global warming law, AB32, passes in November, it will also kill the new renewable energy standard. Meg Whitman, Republican candidate for Governor, says she'll suspend the law if she's elected (the Governor can suspend implementation for a year).

AB32 is California's landmark 2006 law that requires the state to reduce greenhouse gas emissions to 1990 levels by 2020. Major polluters such as refineries, utilities and factories would pay fees and have to make substantial investments in advanced equipment. It mandates emissions reports, the expansion of renewable energy and cleaner fuels.
Meg Whitman claims the law would cripple the economy, lead to more job losses and put California businesses at a disadvantage to other states. As usual, the reverse is true: repealing the law would cripple renewable energy, California's fastest growing economic sector.

And last week, the world's largest offshore wind farm started operating off the coast of England. The $1.2 billion, 300 MW wind farm will power the equivalent of over 200,000 homes. The UK now has 5 GW of offshore wind capacity. The Global Wind Energy Council (GWEC) forecasts that wind capacity worldwide will double to 400 GW by 2014.

The situation is much less sanguine in the U.S. Wind developers are pulling out because of our inability to pass a national energy policy. EDP Renovaveis SA (EDPR) announced that its U.S. subsidiary Horizon Wind Energy would spend less than half on wind projects here in 2011 than it did this year ($700 million reduced to less than $300 million) and could make further cuts. NextEra (NEE), the nation's biggest wind developer, made a similar announcement earlier this year.

On September 22, a stand-alone Renewable Energy Portfolio Standard (RPS) bill was introduced in the U.S. Senate. The weak bill, which is hardly better than nothing, still doesn't have a strong chance of passing this year. It would require utilities to source 15% of energy from renewable sources or from energy efficiency improvements by 2020.
Investors Very Nervous

Meanwhile, investor sentiment is so negative that it's a positive. There's still a ton of money on the sidelines and stocks are so cheap that the potential for buying is high when conditions are right.
Since late April, nervous investors have been moving money out of equity mutual funds ($45.8 billion) and into bond funds ($70.3 billion), according to the Investment Company Institute. $7.6 billion flowed out of domestic equity mutual funds and $6.7 billion flowed into bond funds the last week of August. It's times like these when contrarian long term investors find it favorable to add to their equity portfolios.
To review, the S&P 500 has risen nearly 80% since March 2009 low, and has been taking a breather since this year's high in April. Choppiness began in April in reaction to debt rating downgrades in Europe and the SEC charge that Goldman Sachs defrauded investors. The market corrected just five days before the "Sell in May and Go Away" seasonal pattern kicked in; the S&P 500 shed 16% by July 2. Green stocks were crushed - the solar group gave up about 21%. The market's been waffling since, and now, we're in the August - October period - historically, the weakest of the year.

But this is a mid-term election year, which traditionally sets us up for a bullish fourth quarter. Since 1914, the Dow has gained an average of 50% from the low in mid-term election years. It's time to buy again in expectation of a year end rally.

As usual, investors are making decisions based on emotions. They're buying fixed income bonds and treasuries at a time when interest rates are at all-time lows, and are sure to fall lower as rates rise in the future.
Prudent investors, on the other hand, are buying dividend paying blue-chip stocks at nicely discounted valuations. Dividend yields are currently competitive with bonds, and many blue chips have long histories of increasing their dividends every year. In contrast to fixed income, this strategy offers investors a potential pay raise each year along with the potential for capital appreciation.
++++