We see the North American market more than doubling in 2011. We estimate the US market will double in 2010 to 900 MW, and expect similar growth in 2011, with 1,750 MW likely to be installed.

We handicap the extension of the cash grant at ~50%, but see a growing group of tax equity investors to support 2011 growth. The Canadian province of Ontario is promoting the solar market with some of the most generous tariffs worldwide; we forecast its market to grow from an estimated 200 MW in 2010 to 650 MW next year.

Geographic diversification will likely come from Asia and several new markets. We expect the PV market in Asia to grow significantly compared to 2010. Japan will continue to grow supported by a FIT. As for China, despite a delay in establishing a national solar FIT program, installations will more than double 2010 estimates because of local pilot programs. China will ramp its domestic market as European growth slows and installed system prices decline.

Other growth will come primarily from India and South Korea, as well as Australia, Africa, and the Middle East.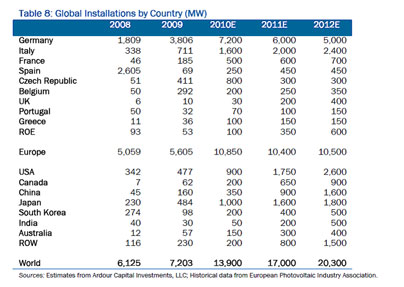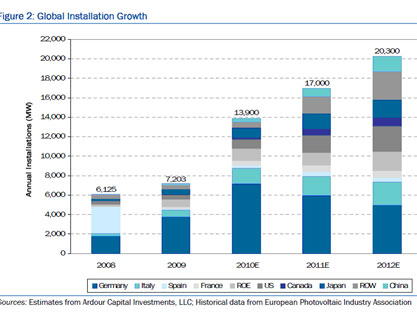 Germany
Germany's tariffs are active through the end of 2010. The cut to the 2011 FIT depends on the megawatts installed from June-September 2010. During that time, Germany installed an estimated 3,628 MW, leading to a 13% cut. IRRs ranged in the mid to high single digits, and will likely settle in the mid single digit range after the 2011 cut.

We expect a strong fourth quarter as installers and investors rush to lock in the 2010 tariffs. Since two other cuts this year have already been absorbed by the market, and there will be some tight supply, we believe Q42010 won't be as strong as Q42009.

We are increasing our full year 2010 estimate for Germany to 7,200 MW. Based on conversations with local contacts and on the fact that potential cuts to the 2012 program could be larger than those in 2011, we are also boosting our 2011 estimate.

For next year, we still see Germany leading the global market, and anticipate 6,000 MW to be installed.
Italy
The current FIT program is active through the end of the year. Developers have until December 31, 2010 to complete installations, and until June 30, 2011 to connect to the grid, allowing sufficient time to deal with complex Italian bureaucracy.

We forecast a strong fourth quarter in Italy, sustained by a mild climate, and raise our 2010 estimate to 1,600 MW.

Starting January 1, 2011, the tariffs will be adjusted every four months. Despite subsidy declines, IRRs remain very attractive in the mid to high teens. In 2012-2013, tariffs will decline 6% a year, but we believe the program will still drive investment.

The cap for traditional PV, for 2011-13, is 3,000 MW and once reached a 14-month grace period begins to allow developers to complete installations. The 2011-13 program also includes special annual rates and separate caps for innovative BIPV and concentrated PV; cuts to these rates will be 2% per year in 2012 and 2013.

We believe part of the solar demand from declining markets will shift to Italy, and our estimate for 2011 is 2,000 MW.
France
Despite September 1 tariff cuts, France still has some of the most attractive programs. IRRs range from 15-20% (depending on sun hours), driving significant investment. However, the news related to a potential temporary freeze on new projects and a new regulatory framework starting March 2011 will affect the market growth.